MEP shocked at EAW abuse after CM helps to free driver
29th September 2011
Page 15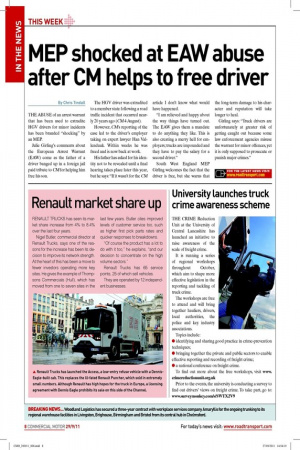 Page 15, 29th September 2011 —
MEP shocked at EAW abuse after CM helps to free driver
Close
By Chris Tindall THE ABUSE of an arrest warrant that has been used to extradite HGV drivers for minor incidents has been branded "shocking" by an MEP.
Julie Girling's comments about the European Arrest Warrant (EAW) come as the father of a driver banged up in a foreign jail paid tribute to CM for helping him free his son. The HGV driver was extradited to a member state following a road trafic incident that occurred nearly 20 years ago (CM 4 August).
However, CM's reporting of the case led to the driver's employer taking on expert lawyer Han Vallenduuk. Within weeks he was freed and is now back at work.
His father has asked for his identity not to be revealed until a inal hearing takes place later this year, but he says: "If it wasn't for the CM article I don't know what would have happened.
"I am relieved and happy about the way things have turned out. The EAW gives them a mandate to do anything they like. This is also creating a merry hell for employers; trucks are impounded and they have to pay the salary for a second driver." South West England MEP Girling welcomes the fact that the driver is free, but she warns that the long-term damage to his character and reputation will take longer to heal.
Girling says: "Truck drivers are unfortunately at greater risk of getting caught out because some law enforcement agencies misuse the warrant for minor offences, yet it is only supposed to prosecute or punish major crimes."
FOR THE LATEST NEWS VISIT:
WWWLPWftPa0Sp0PtLC=