Sibley creditors unlikely to get money owed
29th September 2011
Page 13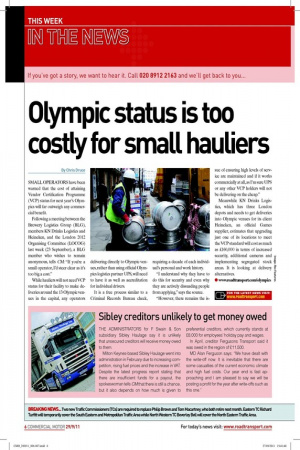 Page 13, 29th September 2011 —
Sibley creditors unlikely to get money owed
Close
Keywords :
Bankruptcy
,
Insolvency
,
Financial Economics
,
Business
,
Credit
,
Finance
,
Economics
,
Preferential Creditor
,
Unsecured Creditor
,
Unsecured Debt
,
Creditor
,
Secured Creditor
THE ADMINISTRATORS for F Swain & Son subsidiary Sibley Haulage say it is unlikely that unsecured creditors will receive money owed to them.
Milton Keynes-based Sibley Haulage went into administration in February due to increasing competition, rising fuel prices and the increase in VAT. Despite the latest progress report stating that there are insufficient funds for a payout, the spokeswoman tells CM that there is still a chance, but it also depends on how much is given to preferential creditors, which currently stands at £8,000 for employees' holiday pay and wages.
In April, creditor Fergusons Transport said it was owed in the region of £11,500.
MD Alan Ferguson says: "We have dealt with the write-off now. It is inevitable that there are some casualties of the current economic climate and high fuel costs. Our year end is fast approaching and I am pleased to say we will be posting a profit for the year after write-offs such as this one."