Tracing Mysterious Noises
29th November 1957
Page 50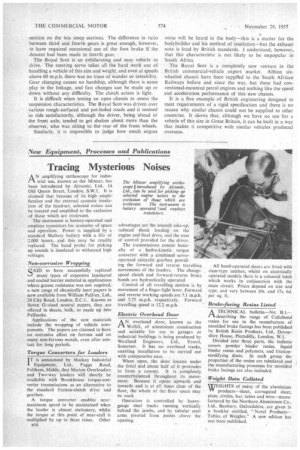 Page 50, 29th November 1957 —
Tracing Mysterious Noises
Close
AN amplifying stethoscope for industrial use, known as the Mincar, has been introduced by Airsonic, Ltd.. 14 Old Queen Street, London, S.W.1. It is claimed that because of its high amplification and the external acoustic insulation of the head-set, selected noises can be located and amplified to the exclusion of those which are irrelevant.
The instrument is battery-operated and employs transistors for economy of space and operation. Power is supplied by a standard Mallory battery with a life of 2,000 hours– and this may be readily replaced. The hand probe for picking up sounds is insulated to withstand high voltages.
Non-corrosive Wrapping QAID to have successfully replaced
many types of expensive laminated and coated barrier material in applications where grease resistance was not required, a new range of chemically inert papers is now available from William Palfrey, Ltd., 24 City Road, London, E.C.I. Known as Seven 0.-sized neutral papers, they are offered in sheets, bulk, or made up into Palfsacks.
Applications of the new materials include the wrapping of vehicle components. The papers are claimed to have no corrosive effect on ferrous and on many non-ferrous metals, even after contact for long periods.
Torque Converters for Loaders I T is announced by Mackay Industrial Equipment, Ltd._ Faggs Road, Feltham, Middx. that Merton Overloaders and Two-way loaders Will shortly be available with Brock house torque-converter transmissions as an alternative to the standard friction-clutch drive and gearbox.
A torque converter enables nearmaximum speed to be maintained when the loader is almost stationary, whilst the torque at this point of near-stall is multiplied by up to three times. Other
al 6 advantages are the smooth take-up: reduced shock loading on the engine and final drive, and the ease of control provided for the driver.
The transmissions consist basically of a hydro-kinetic torque converter with a combined servooperated epicyclic gearbox providing the forward and reverse travelling movements of the loaders. The changespeed clutch and forward-reverse brake bands are hydraulically operated.
Control of all travelling motion is by movement of a finger-light lever. Forward and reverse working speeds are 5.1 m.p.h. and 5.75 m.p.h. respectively. Forward travelling speed is 12.2 m.p.h.
Electric Overhead Door AN overhead door, known as the Wellift, of aluminium construction and suitable for use in garages or industrial buildings is being produced by Westland Engineers, Ltd., Yeovil, Somerset. It has no overhead tracks, enabling installation to be carried out with comparative ease.
When open, the door locates under the lintel and about half of it protrudes to form a canopy. It is completely counterbalanced throughout its movement. Because it opens upwards and inwards and is at all times clear of the floor, the whole of the floor space may be used.
Operation is controlled by heavygauge steel tracks running vertically behind the jambs, and by tubular steel arms pivoted from points above the opening.
All hand-operated doors are fitted with slam-type catches, whilst on electrically operated models there is a solenoid latch which works in conjunction with the main circuit. Prices depend on size and type, and vary between 10s. and I7s. 6d. per sq. ft.
Brake. facing Resins Listed ATECHNICAL bulletin—No. 13.1.— describing the range of Cellobond resins for use in the manufacture of Moulded brake facings has been published by British Resin Products, Ltd., Devonshire House, Piccadilly, London, W.I.
Divided into three parts, the bulletin covers powder binder resins, liquid binder resins and polymers, and frictionmodifying dusts. In each group the properties of the resins arc tabulated and the manufacturing processes for moulded brake facings are also included.
Weight Data Collated WEICiHTS of many of the aluminium products—sheet, corrugated sheet, plate, circles, bar, tubes and wire—manufactured by the Northern Aluminium Co.. Ltd., Banbury, Oxfordshire, are given in a booklet entitled, " Noral Products— Tables of Weights," A new edition has lust been published.