Foreign Tours Operators Clash
29th November 1957
Page 44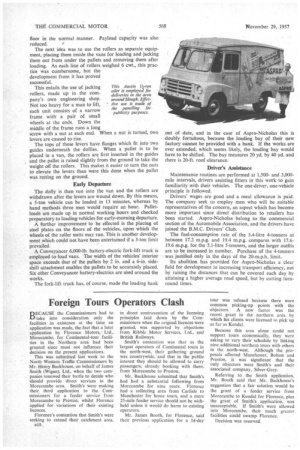 Page 44, 29th November 1957 —
Foreign Tours Operators Clash
Close
BECAUSE the Commissioners had to take into consideration only the facilities in existence at the time an application was made, the fact that a later application by Florence Motors, Ltd., Morecambe, for Continental-tour facilities in the Northern area had been granted since must not influence their decision on the present applications.
This was submitted last week to the North Western Traffic Commissioners by Mr. Henry Backhouse, on behalf of James Smith (Wigan), Ltd., when the two cornpanics renewed their battle to decide who should provide direct services in the Morecambe area. Smith's were making their third application to the Commissioners for a feeder service from Morecambe to Preston, whilst Florence applied for variations of their existing licences.
Florence's contention that Smith's were seeking to extend their catchment area. a 10 . in direct contravention of the licensing principles laid down by the Commissioners when the original licences were granted, was supported by objections from Ribble Motor Services, Ltd., and British Railways.
Smith's contention was that as the 'largest operators of Continental tours in the north-west, their gathering ground was countrywide, and that in the public interest they should be allowed to carry passengers, already booking with them, from Morecambe to Preston.
Mr. Backhouse submitted that Smith's had had a substantial following from Morecambe for nine years. Florence had a collecting area from Carlisle to Manchester for home tours, and a mere 25-mile feeder service should not be with'held unless it would do harm to existing operators.
Mr. James Booth, for Florence, said their previous application for a 14-day tour was refused because there were common picking-up points with the objectors. A new factor was the recent grant in the northern area by which his clients were licensed to pick up as far as Kendal.
Because this area alone could not support tours economically, they were asking to vary their schedule by linking nine additional northern tours with others in the north-west. Although the proposals affected Manchester, Bolton and Preston, it was significant that the only objectors were Smith's and their associated company, Silver-Grey.
Referring to the Smith application, Mr. Booth said that Mr. Backhouse's suggestion that a fair solution would be the grant of a feeder service from Morecambe to Kendal for Florence, plus the grant of Smith's application, was unacceptable. If Smith's were allowed into Morecambe, their much greater facilities could swamp Florence.
Decision was reserved.