Haulier Warned After Convictions
29th November 1957
Page 38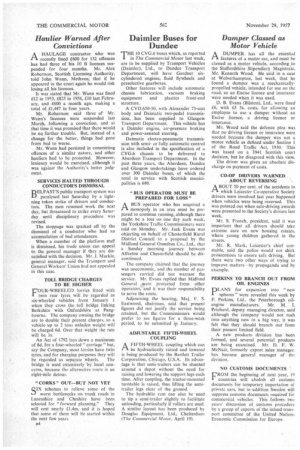 Page 38, 29th November 1957 —
Haulier Warned After Convictions
Close
AHAULAGE contractor who was recently fined £600 for 132 offences has had three of his 10 B licences suspended for four months. Mr. Alex Robertson, Scottish Licensing Authority, told John Warm, Methven, that if he appeared in the court again he would risk losing all his licences.
It was stated that Mr. Wann was fined £12 in 1953, £825 in 1956, £10 last February, and £600 a month ago, making a total of £1,447 in four years.
Mr. Robertson said three of Mr. Wann's licences were suspended last March, following a conviction, and at that time it was promised that there would be nia further trouble. But, instead of a change for the better, things had gone from bad to worse.
Mr. Warm had persisted in committing offences of a similar nature, and other hauliers had to be protected. However, leniency would be exercised, although it was against the Authority's better judgment.
SERVICES HALTED THROUGH CONDUCTOR'S DISMISSAL BELFASTS public transport system was paralysed last Saturday by a lightning token strike of drivers and conductors_ The men resumed work the next day, but threatened to strike every Saturday until disciplinary procedure was revised.
The stoppage was sparked off by the dismissal of a conductor who had an accumulation of bad attendances.
When a member of the platform staff is dismissed, his trade union can appeal to the general manager if they are dissatisfied with the decision. Mr. J. Mackie, general manager, said the Transport and General Workers' Union had not appealed in this case.
TOLL BRIDGE CHARGES TO BE HIGHER.
FOUR-WHEELED lorries fitted with twin rear tyres will Ile regarded as six-wheeled vehicles from January 1 when they cross the toll bridge linking Berkshire with Oxfordshire at Pangbourne. The company owning the bridge are to double their present charges, so a vehicle up to 2 tons unladen weight will be charged 6d. Over that weight the rate will be Is.
An Act of 1792 lays down a maximum of 8d. for a four-wheeled " carriage" but, say the Company, most lorries have twin tyres, and for charging purposes they will be regarded as separate wheels. The bridge is used extensively by local concerns, because the alternative route is an eight-mile detour.
"CORKS" OUT—BUT NOT YET SIX schemes to relieve some of the worst bottlenecks on trunk roads in Lancashire and Cheshire have been selected for "forward planning." They will cost nearly £1.4m. and it is hoped that some of them will he started within the next few years
set