Daimler Buses for Dundee
29th November 1957
Page 38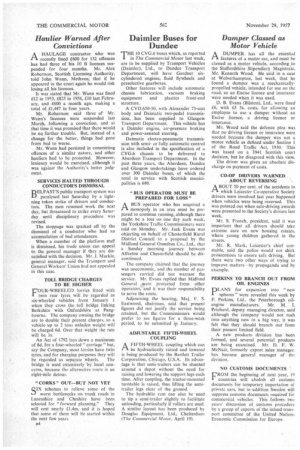 Page 38, 29th November 1957 —
Daimler Buses for Dundee
Close
THE 10 CVG.6 buses which, as reported in The Commercial Motor last week, are to be supplied by Transport Vehicles (Daimler), Ltd., to Dundee Transport Department, will have Gardner sixcylindered engines, fluid flywheels and preselective gearboxes.
Other features will include automatic chassis lubrication, vacuum braking equipment and plastics front-end structure.
A CVD.650-30, with Alexander 73-seat body and Daimatic two-pedal transmission, has been supplied to Glasgow Transport Department. This vehicle has a Daimler engine, air-pressure braking and power-assisted steering.
Daimatic electro-pneumatic transmission with semior fully automatic control is also included in the specification of a CVC1.6 chassis to be delivered to Aberdeen Transport Department. In the past three years, the Aberdeen, Dundee and Glasgow undertakings have ordered over 300 Daimler buses, of which the total in service with Scottish municipalities is 680.
"BUS OPERATOR MUST BE PREPARED FOR LOSS"
ABUS operator who has acquired a monopoly in an area must be prepared to continue running, although there might be a loss on one day each week, the Yorkshire Traffic Commissioners were told on Monday. Mr. Jack Evans was objecting on behalf of Chesterfield Rural District Council to a proposal by the Midland General Omnibus Co., Ltd., that a Sunday morning journey between Alfreton and Chesterfield should be discontinued.
The company claimed that the journey was uneconomic, and the number of passengers carried did not warrant the service. Mr. Evans replied that Midland General were protected from other operators, and it was their responsibility to serve the route.
Adjourning the hearing, Maj. F. S. Eastwood, chairman, said that present figures did not justify the service being retained, but the Commissioners would prefer to see figures for a three-week period, to be submitted in January.
ADJUSTABLE FIFTH-WHEEL COUPLING
AFIFTH-WHEEL coupling which can be hydraulically raised and lowered is being produced by the Bartlett Trailer Corporation, Chicago, U.S.A. Its advantage is that semi-trailers can be shunted around a depot without the need for raising and lowering the support legs each time. After coupling, the tractor-mounted turntable is raised, thus lifting the semitrailer legs clear of the ground.
The hydratilic ram can also be -used to tip a semi-trailer slightly to facilitate unloading, particularly if rollers are used. A similar layout has been produced by Douglas Equipment, Ltd., Cheltenham (The Commercial Ikloto), April 19).