Nottingham Refused 3d. Lowest Fare U.A.S. Keep
29th November 1957
Page 36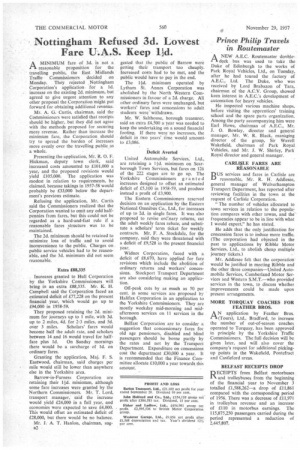 Page 36, 29th November 1957 —
Nottingham Refused 3d. Lowest Fare U.A.S. Keep
Close
A MINIMUM fare of 3d. is not a 1-1, reasonable proposition for the travelling public, the East Midlands Traffic Commissioners decided on Monday. They rejected .Nottingham Corporation's application for a Id. increase on the existing 2d. minimum, but agreed to give urgent attention to any other proposal the Corporation might put forward for obtaining additional revenue.
Mr. A. G. Curtis, chairman, said the Commissioners were satisfied that receipts should be higher, but they did not agree with the methods proposed for securing more revenue. Rather than increase the minimum fare, the Corporation should try to spread the burden of increases more evenly over the travelling public as a whole.
Presenting the application, Mr. R. 0. F. Hickman, deputy town clerk, said increased costs amounted to £101,000 a year, and the proposed revisions would yield £105,000. The application was modest in relation to requirements, he claimed, because takings in 1957-58 would probably be £33,000 below the department's previous estimate.
Refusing the application, Mr. Curtis said the Commissioners realized that the Corporation wanted to omit any odd halfpennies from fares, but this could not be regarded as a hard-and-fast rule if a reasonable fares structure was to be maintained.
The 2d. minimum should be retained to minimize loss of traffic and to avoid inconvenience to the public. Charges on public service vehicles had to be reasonable, and the 3d. minimum did not seem reasonable.
Extra £88,335 Increases granted to Hull Corporation by the Yorkshire Commissioners will bring in an extra £88,335. Mr. K. H. Campbell said the Corporation faced an estimated deficit of £77,228 on the present financial year, which would go up to £94,000 in 1958-59.
They proposed retaining the 2d. minimum for journeys up to 1 mile, with 3d. up to 2 miles, 4d. for 2-3 miles, and 5d.
over 3 miles. Scholars' fares would become half the adult rate, and scholars between 14 and 16 would travel for half fare plus Id. On Sunday mornings there would be a surcharge of Id. on ordinary fares.
Granting the application, Maj. F. S. Eastwood, chairman, said charges per mile would still be lower than anywhere else in the Yorkshire area.
Barrow-in-Furness Corporation are retaining their lid. minimum, although some fare increases were granted by the Northern Commissioners. Mr, T. Lord, transport manager, said the increase would yield £24,000 in a full year, and economies were expected to save £4,000This would offset an estimated deficit of £28,000, but there would he no balance.
Mr. J. A. T. Hanlon, chairman, sug a2 gested that the public of Barrow were getting their transport too cheaply. Increased costs had to be met, and the public would have to pay in the end.
The lid minimum operated by Lytham St. Annes Corporation was abolished by the North Western Commissioners in favour of a 2d. charge. All other ordinary fares were unchanged, but workers' fares and concessions to adult students were withdrawn.
Mr. W. Salthouse, borough treasurer, said an extra £4,500 a year was needed to keep the undertaking on a sound financial footing. If there were no increases, the deficit in two years' time would amountto £3,086.
Deficit Averted
United Automobile Services, Ltd., are retaining a lid, minimum on Scarborough Town Services, but fares on 126 of the 222 stages are to go up. The Yorkshire Commissioners granted increases designed to offset an estimated deficit of £5,100 in 1958-59, and produce instead a profit of £3,900.
The Eastern Commissioners reserved decision on an application by the Eastern National Omnibus Co., Ltd., for increases of up to 2d. in single fares. It was also proposed to revise or nary returns, cut the adult weekly fares rebate, and substitute a scholars' term ticket for weekly contracts. Mr. F. A. Stockdale, for the company, said they were threatened with a deficit of £9,528 in the present financial year.
Widnes Corporation, faced with a deficit of £8,670, have applied for fare revisions which include the abolition of ordinary returns and workers' concessions. Stockport Transport Department are also considering making an application.
Off-peak cuts by as much as 50 per cent. in some services are proposed by Halifax Corporation in an application to the Yorkshire Commissioners. They arc mostly weekday mid-morning and midafternoon services on 11 services in the borough.
Belfast Corporation are to consider a suggestion that concessionary fares for old age pensioners, disabled and blind passengers should be borne partly by the rates and not by the Transport Department. Expenditure on concessions cost the department £30,000 a year. It is recommended that the Finance Committee allocate £10,000 a year towards this amount.