Removers Hit by 13-licence Grant
29th November 1957
Page 35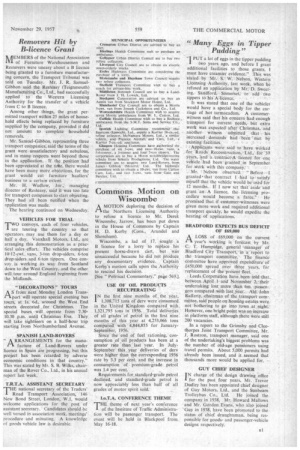 Page 35, 29th November 1957 —
Removers Hit by 13-licence Grant
Close
MEMBERS of the National Association of Furniture Warehousemen and Removers were uneasy about a B licence being granted to a furniture manufacturing concern, the Transport Tribunal was told on Tuesday. Mr. J. R. SamuelGibbon said the Resteasy (Teignmouth) Manufacturing Co., Ltd., had successfully applied to the Western Licensing Authority for the transfer of a vehicle From C to B licence.
Among other things, the grant permitted transport within 25 miles of household effects being replaced by furniture supplied by the col-ninny, provided it did
• not amount to complete household • removals. • • Mr. Samuel-Gibbon, representing three transport companies; said the terms of the grant were unsatisfactory and nebulous, and in many respects went beyond those in the application. if the position had been appreciated at the Mike, there would have been many more objections, for the grant would cut furniture hauliers' business to a certain extent.
Mr. H. Wadlow, Jr., managing director of Resteasy, said it was too late for transport companies to start objecting. They had all been notified when the application was made.
The hearing continued on Wednesday.
VEHICLES FOR TRIAL
TWO convoys, each of four vehicles,
are touring the country so that operators may use them for a day or half a day. Vauxhall Motors, Ltd., are arranging this demonstration as a practical sales effort The vehicles comprise 10-12-cwt.. vans, 3-ton drop-siders, 6-ton drop-siders,and 6-ton tippers. One convoy is working its way from Scotland down to the West Country. and the other will tour around England beginning from the Midlands.
"DECORATIONS" TOURS
A S from next' Monday London Trans-rt. port will operate special evening bus tours, at Is. 6d., 'around the West End streets decorated. for Christmas. The special buses will operate from 7.3010.30 p.m. until Christmas Eve. They will take sightieers on a half-hour trip starting from Northumberland Avenue.
SPANISH LAND-ROVERS
"A RRANGEMENTS for the manu
r facture of Land-Rovers under licence in Spain are progressing, but this project has been retarded by adverse economic conditions in that country." This was stated by Mr. S. B. Wilks, chairman of the Rover Co., Ltd., in his annual report last week.
T.R.T.A. ASSISTANT SECRETARY 'THE national secretary of the Traders' I Road Transport Association, 146 New Bond Street, London. W.1, would welcome applications for the post of assistant secretary. Candidates should be well versed in association work, meetings' procedure and minuting. A knowledge of goods vehicle law is desirable.