"Many Eggs in Tipper Pudding
29th November 1957
Page 35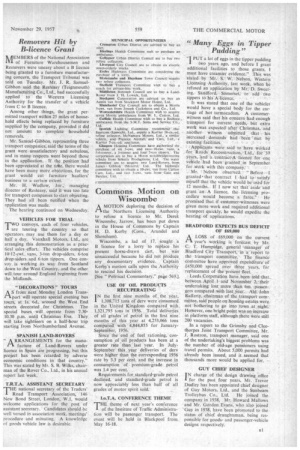 Page 35, 29th November 1957 —
"Many Eggs in Tipper Pudding
Close
"I PUT a lot of eggs in the tipper pudding
two years ago, and before I grant additional facilities to those grants. I must have creamier evidence.", This was 'stated by Mr. S. W. Nelson, Western Licensing Aufhority, last week, when he refused an application by Mr. D. Sweeting. Sandford, Somerset,to add two tippers to his A4icerice. .
It was stated that one of the vehiclet would have a special body for the carriage of hot tarmacadam. A customerwitness said that his zoncern had enough transport for current needs,' but extra work was expected after Christriras, and another, witness admitted that • • his increased demands had been met bY•
existing facilities. '
Applicants were said • to have worked for Roads Reconstruction, • Ltd.,' fat -31 Years, Ind e.contract-A licence 'for One vehicle had been granted in September for .work with this company."
Mr. • Nelson observed:-'" Before I granted that contract I -liad to satisfy myself that the vehicle would be'used for 12 months. If I now set that aside 'and grant an • A licence, thelicensing procedlire would become a farce." He promised that if customer-witnesses were given more work and required additional transport quickly, he would expedite the hearing of applications.
BRADFORD EXPECTS BUS DEFICIT OF £69,000
A LOSS of £69,000 on the current year's working is forecast by Mr. C. T. Humpidge, general -managef of Bradford City Transport, in a 'report to the transport committee. The finance committee have approved expenditure of 1450,000 spread over three years, for replacement of the preSent-fleet.
• Leeds Corporation have. been told that_ between. ApriL I arid" N (Wernher Ztheir undertaking lost more than 6m. passengers compared with last .ear: Ald. John Rafferty, -chairman of the .transport committee, said people on housing estates were not 6othering to go into .town at, night. However, one bright point was an increase in platform staff, although there *ere still 200 vacancies.
In a report to the Grimsby and Cleethorpes Joint Transport Committee, Mr. J. Rostron, transport manager, said one of the undertaking's biggest problems was the number of old-age pensioners using travel permits. About 5,000 permits had already been issued, and it seemed that thousands more would be applied for. :
GUY CHIEF DESIGNER I N charge of the design drawing 'office for the past four years, Mr. Trevor Dudley has been appointed chief, designer of Guy Motors, Ltd., and the Sunbeam Trolleybus Co., Ltd. He joined the company in 1938. Mr. Howard Mallows and Mr. .Gordon.Evans,,who also joined 'Guy in 1938, have been promoted to the status of chief draughtsman, being responsible for goodsand passenger-vehicle designs respectively.