Need for Licence Questioned
29th November 1957
Page 33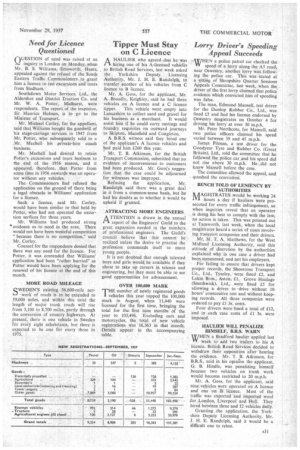 Page 33, 29th November 1957 —
Need for Licence Questioned
Close
QUESTION of need was raised at an inquiry in London on Monday, when Mr. B. S. Williams, -Emsworth, Hants, appealed against the refusal of the South Eastern Traffic Commissioners to grant him a licence to run excursions and tours from Stedham.
Southdown Motor Services, Ltd., the Aldershot and District Traction Co. and Mr. W. A. Potter, Midhurst, were respondents. The report of the inspector, Sir Maurice Holmes, is to go to the Minister of Transport.
Mr. Michael Corley, for the appellant, said that Williams bought the goodwill of his stage-carriage services in 1947 from Mr. Potter, who subsequently sold to a Mr. Machell his private-hire coach business.
Mr. Machell had desired to retain Potter's excursions and tours business to the end of the 1956 season, and it appeared, therefore, that Potter from some time in 1956 onwards was an operator without any vehicles.
The Commissioners had refused the application on the ground of there being a legal obstacle in Williams' application for a licence.
Such a licence, said Mr. Corley, would have been similar to that held by Potter, who had not operated the excursion ser/ices for three years.
Mr. Williams had produced strong ' evidence as to need in the area. There would not have been wasteful competition "because there is no competition," said Mr. Corley.
Counsel for the respondents denied that there was any need for the licence. For Potter, it was contended that Williams' application had been "rather hurried" as Potter would have been applying for the renewal of his licence at the end of this month.
• MORE ROAD MILEAGE
SWEDEN'S existing 56,600-mile network of roads is to be extended to 59,000 miles, and within this total the length of major trunk roads will rise from 3,100 to 8,700 miles, partly through the conversion of country highways. At present, there is one vehicle in Sweden for every eight inhabitants, but there is expected to be -.one for every three in 1975.