Lorry Driver's Speeding Appeal Succeeds
29th November 1957
Page 33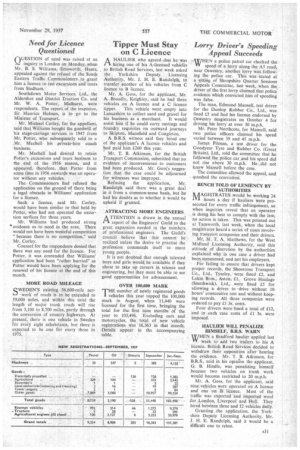 Page 33, 29th November 1957 —
Lorry Driver's Speeding Appeal Succeeds
Close
..-WHEN a police patrol car checked the V•V speed of a lorry along the AS road, near Oswestry, another lorry was following the police car. This was stated at a sitting of Shropshire Quarter Sessions Appeals Committee, last week, when the driver of the first lorry claimed that police evidence which convicted him of speeding was false.
The man, Edmund Mansell, test driver for the Dunlop Rubber Co., Ltd., was fined £5 and had his licence endorsed by Oswestry magistrates on October 4 for driving his lorry at over 30 m.p.h.
Mr. Peter Northcote, for Mansell, said two police officers claimed his speed varied between 39 and 45 m.p.h.
James Pitman, a test driver for the Goodyear Tyre and Rubber Co. (Great Britain), Ltd., told the committee that he followed the police car and his speed did not rise above 30 m.p.h. He ,did not know Mansell before the case.
The committee allowed the appeal, and quashed the conviction.
BENCH TOLD OF LENIENCY BY AUTHORITIES
MAGISTRATES would be working 24 hours a _clay if hauliers were prosecuted for every traffic infringement, so when inquiries reveal that an operator is doing his best to comply with the law, no action is taken. This was pointed out at Tamworth, last week, when the local magistrates heard a series of cases involving transport companies and their drivers.
Mr. M. T. A. Matthews, for the West Midland Licensing Authority, said this attitude of discretion by the authorities explained why in one case a driver had been summoned, and not his employers.
For failing to ensure that drivers kept proper records, the Shenstone Transport Co., Ltd., Tyseley, were fined £2, and Lakin Bros., Aston, £1. Grove Haulage (Smethwick), Ltd., were fined £5 for allowing a driver to -drive without 10 hours' consecutive rest and without keeping records. All three companies were ordered to pay £1 3s. costs.
Four drivers were fined a total of 112, and in each case costs of £1 3s. were imposed.
HAULIER WILL PENALIZE HIMSELF, B.R.S. WARN
WHEN a Bradford haulier applied last week to add two trailers to his A licence, British Road Services decided to withdraw their opposition after hearing the evidence. Mr. T. B. Atkinson, for B.R.S., said in his opiniim the applicant, G. B. Hindle, was penalizing himself because two vehicles on trunk work would become restricted to 20 m.p.h.
Mr. A. Goss, for the applicant, said nine vehicles were operated on A licence and one on B licence. Most of the traffic was exported and imported wool for London. Liverpool and Hull. They hired betWeen three and 12 vehicles daily.
Granting the application, the Yorkshire Deputy Licensing Authority, Mr. I. H. E. Randolph, said it would be a difficult one to rebut.