Men in the News
29th November 1957
Page 30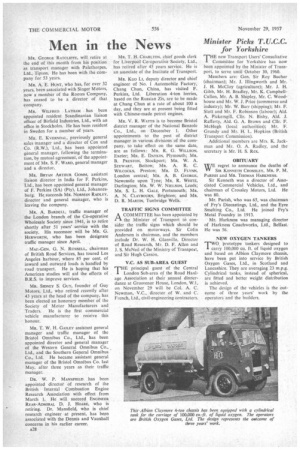 Page 30, 29th November 1957 —
Men in the News
Close
Keywords :
MR. GEORGE RATCLIFFE, will retire at the end of this month from his position as transport manager with Palethorpes, Ltd., Tipton. He has been with the company for 53 years.
MR. A. E. Huwr, who has, for over 32 years, been associated with Singer Motors, now a member of the Rootes Company, has ceased to be a director of that company.
MR. WILFRED LATHAM has been appointed resident Scandinavian liaison officer of Birfield Industries, Ltd., with an office in Stockholm. He has been resident in Sweden for a number of years.
MR. E. KVERNDAL, previously general sales manager and a director of Cox and Co. (R.W.), Ltd., has been appointed general manager, following the termination, by mutual agreement, of the appointment of MR. S. F. WARD, general manager and a director.
MR. BRYAN ARTHUR Gomm, assistant liaison director in India for F. Perkins, Ltd., has been appointed general manager of F. Perkins (SA) (Pty), Ltd., Johannesburg. He. succeeds MR. NORMAN RADLEY. director and general manager, who is leaving the company.
MR. A. BARDELL, traffic manager of the London branch of the Co-operative Wholesale Society since 1941, is to retire shortly after 51 years' service with the society. His successor will be MR. G. HERwoarti, who has been designate traffic manager since April.
MAL-GEN. G. N. RUSSELL, chairman of British Road Services, has toured Los Angeles harbour, where 85 per cent, of inward and outward loads is handled by road transport. He is hoping that his American studies will aid the efforts of B.R.S. to improve services.
MR. SIDNEY S. GUY, founder of Guy Motors, Ltd., who retired recently after 43 years at the head of the company, has been elected an honorary member of the Society of Motor Manufacturers and
Traders. He is the first commercial vehicle manufacturer to receive this honour.
MR. T. W. H. GAILEY assistant general manager and traffic manager of the Bristol Omnibus Co., Ltd., has been appointed director and general manager of the Western General Omnibus Co., Ltd., and the Southern General Omnibus Co., Ltd. He became assistant general manager of the Bristol Omnibus Co. last May, after three years as their traffic manager.
Da. W. P. MANSFIELD has been appointed director of research of the British Internal Combustion Engine Research Association with effect from March I. He will succeed ENGINEER REAR-ADMIRAL D. J. HOARE, who is retiring. Dr. Mansfield, who is chief research engineer at present, has been associated with the Dennis and Vauxhall concerns in his earlier career.
A28 Ma. T. H. CHARLTON, chief goods clerk for Liverpool Co-operative Society, Ltd., has retired after 45 years service. He is an associate of the Institute of Transport.
MR. Kuo Li, deputy director and chief engineer of No. 1 Automobile Factory, Chang Chun, China, has visited F. Perkins, Ltd. Liberation 4-ton lorries, based on the Russian Zis, are to be made at Chang Chun at a rate of about 100 a day, and they are at present being fitted with Chinese-made petrol engines.
MR. V. R. WA-rrs is to become Bristol district manager of the National Benzoic Co., Ltd., on December 1. Other appointments to the post of district manager in various divisions of the company, to take effect on the same date, are as follows: MR. R. G. WiusoN, Exeter; MR. E. DAYKIN, Plymouth; MR. B. PRESTON, Stockport; MR. W. A. STEwAtu., Bolton; MR. A. R. C. Wmcocx.s, Preston; MR. D. FLYNN, London central; MR. A. B. GEORGE. Newcastle upon Tyne; MR, R. WHITE, Darlington; MR. W. W. NIELSON, Leeds; MR. S. L. H. GALE, Portsmouth; MR. A. N. CLAYBOURN, Brighton; and MR. D. R. MARTIN, Tunbridge Wells.
TRAFFIC SIGNS COMMITTEE
ACOMMITTEE has been appointed by the Minister of Transport to consider the traffic signs which should be provided on motorways. Sir Colin Anderson is chairman, and the members include Dr. W. H. Glanville, Director of Road Research, Mr. D. F. Allen and J. S. McNeil of the Ministry of Transpott, and Sir Hugh Casson.
V.C. AS SUB-AREA GUEST
THE principal guest of the Central London Sub-area of the Road Haulage Association at their annual dinnerdance at Grosvenor House, London, WA, on November 29 will be Col. A. C. Newman, V.C., director of W. and C. French, Ltd., civil-engineering contractors.
Minister Picks T.U.C.C. for Yorkshire
'THE new Transport Users' Consultative Committee for Yorkshire has now been appointed by the Minister of Transport, to serve until October 30, 1960.
Members are: Gen. Sir Roy Bucher (chairman); Mr. J. Illingworth and Mr. 1. H. McCloy (agriculture); Mr. J. H. Gibb, Mr. H. Bradley, Mr. K. CampbellCullen, Mr. A. B. Shipley, Mr. C. Woodhouse and Mr. W. J. Price (commerce and industry); Mr. W. Barr (shipping); Mr. F. Stott and Mr. F. Robinson (labour); Ald. A. Pickersgill, Ur. N. Bisby, Aid. J. Rafferty, Aid. G. A. Brown and Clir. F. McHugh (local authorities); Mr. F. Grundy and Mr. H. L. Hopkins (British Transport Commission).
Additional members are Mrs. K. Jackman and Mr. 0. A. Radley, and the secretary is Mr. H. S. Rex.
OBITUARY
WE regret to announce the deaths of SIR KENNETH CROSSLEY, MR. P. M. PARISH and MR. THOMAS HARKNESS.
Sir Kenneth was a director of Associated Commercial Vehicles, Ltd., and chairman of Crossley Motors, Ltd. He was 80.
Mr. Parish, who was 65, was chairman of Fry's Diecastings, Ltd., and the Eyre Smelting Co., Ltd. He joined Fry's Metal Foundry in 1913.
Mr. Harkness was managing director of Harkness Coachworks, Ltd., Belfast. He was 56.
NEW OXYGEN TANKERS
TWO. prototype tankers designed to carry 100,000 cu. ft. of liquid oxygen and based on Albion Claymore chassis, have been put into service by British Oxygen Gases, Ltd., in Scotland and Lancashire. They are averaging 23 m.p.g. Cylindrical tanks, instead of spherical, are fitted and better weight distribution is achieved.
The design of the vehicles is the Outcome of three years' work by the operators and the builders.
Tags
People
:
H. L. Hopkins
,
SIDNEY S. GUY
,
J. H. Gibb
,
A. E. Huwr
,
NORMAN RADLEY
,
E. KVERNDAL
,
F. Grundy
,
D. R. MARTIN
,
BRYAN ARTHUR
,
W. J. Price
,
K. Jackman
,
A. N. CLAYBOURN
,
H. S. Rex
,
Kuo Li
,
J. Illingworth
,
Colin Anderson
,
H. Bradley
,
A. BARDELL
,
Roy Bucher
,
W. H. Glanville
,
E. DAYKIN
,
C. Woodhouse
,
Gomm
,
THOMAS HARKNESS
,
S. F. WARD
,
F. Robinson
,
B. PRESTON
,
A. C. Newman , V
,
D. F. Allen
,
G. N. RUSSELL
,
Parish
,
W. Barr
,
KENNETH CROSSLEY
,
W. P. MANSFIELD
,
D. J. HOARE
,
Hugh Casson
,
W. W. NIELSON
,
A. B. GEORGE
,
F. Stott
,
D. FLYNN
,
WILFRED LATHAM
,
GEORGE RATCLIFFE
Locations
:
Johannesburg
,
Leeds
,
Bristol
,
Stockport
,
Plymouth
,
Stockholm
,
Exeter
,
Newcastle upon Tyne
,
Belfast
,
Portsmouth
,
London
,
Chang Chun