AN INFORMATIVE TECHNICAL BOOKLET
29th November 1935
Page 54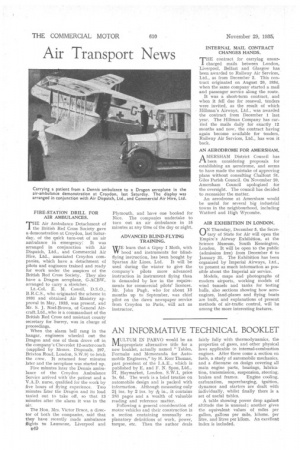 Page 54, 29th November 1935 —
AN INFORMATIVE TECHNICAL BOOKLET
Close
MULTUM IN PARVO would be an appropriate alternative title for a new booklet, actually named "Tables, Formuln and Memoranda for Automobile Engineers," by H. Kerr Thomas, past president of the I.A.E., which is published by E. and F. N. Spon, Ltd" 157, Haymarket, London, SAVA, price Is. Bd. The work is a brief treatise on automobile design and is packed with information. Although measuring only
23 ins. by 2 ins, by in., it contains 183 pages and a wealth of valuable reading and reference matter.
Following a general consideration of motor vehicles and their construction is a section containing unusually explanatory definitions of work, power, torque, etc. Then the author deals fairly fully with thermodynamics, the properties of gases, and other physical laws applicable to internal-combustion engines. After these come a section on fuels, a study of automobile mechanics, and a discourse on design covering all main engine parts, bearings, lubrica,tion, transmission, suspension, steering, brakes and frames. Engine cooling, carburation, supercharging, ignition, dynamos and starters are dealt with individually, whilst finally there is a set of useful tables.
A table showing power drop against altitude rise is unusual; another gives the equivalent values of miles per gallon, gallons per mile, kiloms. per litre, and litres per kilom. An excellent index is included.