AUTHORITY COMPLIMENTS APPLICANT.
29th November 1935
Page 35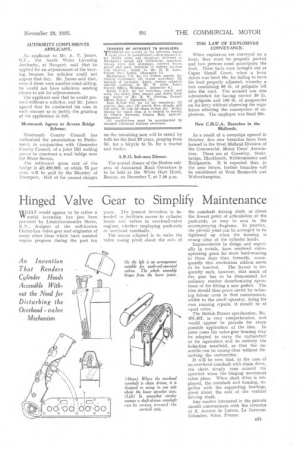 Page 35, 29th November 1935 —
AUTHORITY COMPLIMENTS APPLICANT.
Close
An applicant to Mr. A. T. James, KC., the South Wales Licensing Authority, at Newport, said that he applied for an adjournment of the hearing, because his solicitor could not appear that day. Mr. James said that, even if there were another court sitting, he would not have solicitors sending clients to ask for adjournments.
The applicant said that he would proceed without a solicitor, and Mr. James agreed that he conducted his case in such manner as to justify the granting of the application in full.
Monmouth Agrees to Severn Bridge Scheme.
Monmouth County Council has euthorized the presentation to Parliament, in conjunction with Gloucester County Council, of a joint Bill seeking power to construct a road bridge over the River Severn.
The estimated gross cost of the bridge is 2,480,000, of which 75 per cent, will be paid by the Ministry of Transport. Half of the annual charges on the remaining sum will be raised by tolls for the first 20 years, ranging from 3d. for a bicycle to 7s. for a tractor and trailer.
A.R.O. Sub-area Dinner.
The annual dinner of the Boston subarea of Associated Road Operators is to be held at the White Hart Hotel, Boston, on December 7, at 7.30 p.m. THE LAW OF EXPLOSIVES CONVEYANCE.
When explosives are conveyed on a lorry, they must be properly packed and two persons must accompany the load. These facts were brought out at Cupar Sheriff Court, when a lorry driver was fined 40s. for failing to have his load properly adjusted, whereby a box containing 50 lb. of gelignite fell into the road. The accused was also admonished for having carried 50 lb. of gelignite and 150 lb. of gunpowder on his lorry without observing the regulation affecting the conveyance of explosives. The employer was fined 20s, New C.M.U.A. Branches in the Midlands.
As a result of a campaign opened in October five new branches have been formed in the West Midland Division of the Commercial Motor Users' Association. These are at Coventry, Stourbridge, Blackheath, Ridderminster and Bridgnorth. It is expected that, in the near future, further branches will be established at West Bromwich and Wolverhampton.