Passing Comments
29th November 1935
Page 28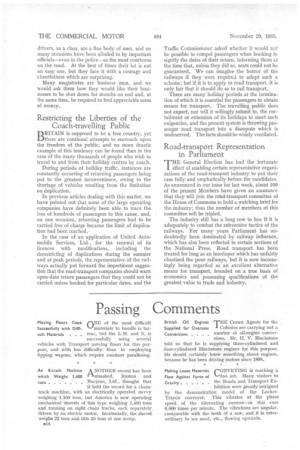 Page 29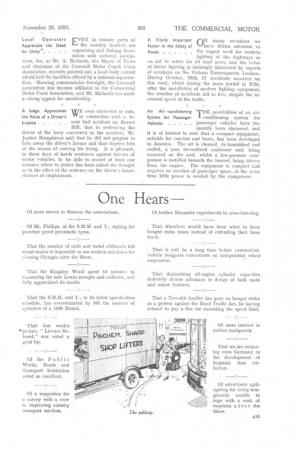 Page 28, 29th November 1935 —
Passing Comments
Close
Moving Floors Cope (NE of the most difficult Successfully with Diffi'--"materials to handle is tarcult Materials . . . mac, but the L.M. and S. is successfully using several vehicles with Transport moving floors for this purpose, and with less difficulty than in employing tipping wagons, which require constant paraffining.
An 8-track Machine AA. NOTHER record has been which Weighs 1,400 "smashed. Ruston and
tons Bucyrus, Ltd., thought that
it held the record for a chain. track machine, with an electrically operated navvy weighing 1,100 tons, but America is now operating mechanical shovels of this type weighing 1,400 tons and running on eight chain tracks, each separately_ driven by an electric motor. Incidentally, the shovel weighs 22 tons and lifts 30 tons at one scoop.
814
British Oil Engines HE Crown Agents for the Supplied for Overseas 1 Colonies are carrying out a Conversions • • . number of oil-engine conversions. Mr. H. V. Blackstone told us that he is supplying three-cylindered and .four-cylindered Blackstone engines for this purpose. He should certainly know something about engines, because he has been driving motors since 1898.
CONVEYING is reaching a '--"fine art. Many visitors to the Roads and Transport Exhibition were greatly intrigued by the demonstration model of the LockerTrayco. conveyer.conveyer. This vibrates at the phase , speed of the alternating current—in this case 6,000 times per minute. The vibrations are angular, comparable with the teeth of a saw, and it is ex-traordinary to see sand, etc., flowing upwards.
Making Loose Materials Flow Against Force of Gravity
EEVEN in remote parts of the country hauliers are organizing and linking themselves with national associations, for, as Mr. A. Richards, the Mayor of Truro and chairman of the Cornwall Motor Coach Users Association, recently pointed out, a local body cannot afford half tlaelacilities offered by a national organization. Showing commendable foresight, the Cornwall association has become affiliated to the Commercial Motor Users Association, and Mr. Richards has made a strong appeal for membership.
Local Operators Appreciate the Need
for Unity.
WE were interested to note, in connection with a reCent bad accident on Barnet Hill, that in sentencing the driver of the lorry concerned in the accident, Mr. Justice Humphreys said that he did not propose to take away the driver's licence and thus deprive him of the means of earning his living. It is pleasant, in these days of harsh sentences against drivers of motor vehicles, to be able to record at least one instance where to justice has been added the thought as to the effect of the sentence on the driver's futarc chances of employment.
A Judge Appreciates the Value of a Driver's Licence A Vitally important nN many occasions we Factor in the Safety of '-lhave drawn attention to Roads the urgent need for modern lighting of the highways as an aid to safety for all road users, and the value of better lighting is strikingly illustrated by reports of accidents on the Victoria Embankment, London.
During October, 1928,. 17 accidents occurred on this road, whilst during the same period in 1.930, after the installation of modern lighting equipment, the number of accidents fell to five, despite the increased speed of the traffic.
THEpossibilities of an airconditioning system for passenger vehicles have frequently been discussed, and it is of interest to note that a compact equipment, suitable for coaches and buses, has been developed in America. The air is cleaned, de-humidified and cooled, a neat streamlined condenser unit being mounted on the roof, whilst a low-pressure compressor is installed beneath the bonnet, being driven Irons the engine. The equipment is compact and requires no sacrifice of passenger space, at the same time little power is needed by the compressor.
An Air conditioning System for Passenger Vehicles