,Soaring diesel prices are crippling haulage
29th May 2008
Page 6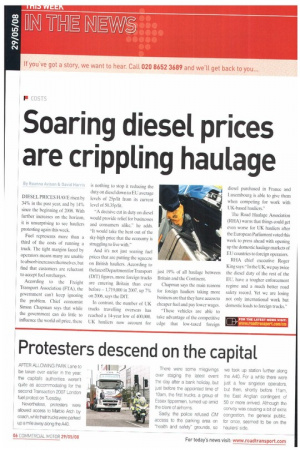 Page 6, 29th May 2008 —
,Soaring diesel prices are crippling haulage
Close
By Roanna Avison & David Ha DIESEL PRICES HAVE risen by 34% in the past year, and by 14% since the beginning of 2008. With further increases on the horizon, it is unsurprising to see hauliers protesting again this week.
Fuel represents more than a third of the costs of running a truck. The tight margins faced by operators means many are unable to absorb increases themselves, but find that customers are reluctant to accept fuel surcharges.
According to the Freight Transport Association (FTA). the government can't keep ignoring the problem. Chief economist Simon Chapman says that while the government can do little to influence the world oil price, there is nothing to stop it reducing the duty on diesel down to EU average levels of 25p/lit from its current level of 50.35p/lit.
-A decisive cut in duty on diesel would provide relief for businesses and consumers alike," he adds. "It would take the heat out of the sky-high price that the economy is struggling to live with."
And it's not just soaring fuel prices that are putting the squeeze on British hauliers. According to the latest Department forTransport (Df n figures. more foreign trucks are entering Britain than ever before 1,719,000 in 2007, up 7% on 2006, says the DfT.
In contrast, the number of UK trucks travelling overseas has reached a 14-year low of 400,000. UK hauliers now account for just 19% of all haulage between Britain and the Continent.
Chapman says the main reasons for foreign hauliers taking more business are that they have access to cheaper fuel and pay lower wages.
"These vehicles are able to take advantage of the competitive edge that low-taxed foreign diesel purchased in France and Luxembourg is able to give them when competing for work with UK-based hauliers."
The Road Haulage Association (RI-IA) warns that things could get even worse for UK hauliers after the European Parliament voted this week to press ahead with opening up the domestic haulage markets of EU countries to foreign operators.
RHA chief executive Roger King says: "In the UK, we pay twice the diesel duty of the rest of the Ell, have a tougher enforcement regime and a much better road safety record. Yet we are losing not only international work but domestic loads to foreign trucks."