A tax too far?
29th May 2008
Page 20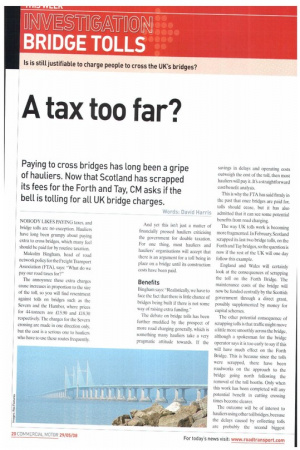 Page 21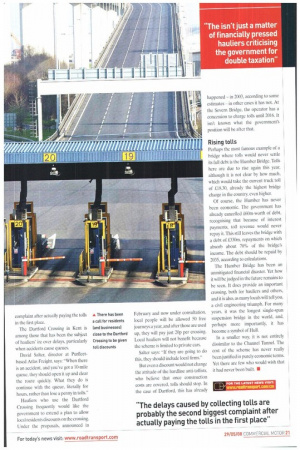 Page 20, 29th May 2008 —
A tax too far?
Close
Keywords :
Bridges
,
Transport In The United Kingdom
,
Counties Of England
,
Hessle
,
Humber
,
Humber Bridge
,
Toll Road
,
Toll Bridge
,
Severn Bridge
,
Dartford Crossing
,
Forth Road Bridge
,
Toll
Paying to cross bridges has long been a gripe of hauliers. Now that Scotland has scrapped its fees for the Forth and Tay, CM asks if the bell is tolling for all UK bridge charges.
Words: David Harris NOBODY LIKES PAYING taxes, and bridge tolls are no exception. Hauliers have long been grumpy about paying extra to cross bridges, which many feel should be paid for by routine taxation.
Malcolm Bingham, head of road network policy for the Freight Transport Association (FTA), says: "What do we pay our road taxes for?"
The annoyance these extra charges cause increases in proportion to the size of the toll, so you will find resentment against tolls on bridges such as the Severn and the Humber, where prices for 44-tonners are £15.90 and £18.30 respectively. The charges for the Severn crossing are made in one direction only, but the cost is a serious one to hauliers who have to use these routes frequently. And yet this isn't just a matter of financially pressed hauliers criticising the government for double taxation. For one thing, most hauliers and hauliers' organisations will accept that there is an argument for a toll being in place on a bridge until its construction costs have been paid.
Benefits Bingham says: "Realistically, we have to face the fact that there is little chance of bridges being built if there is not some way of raising extra funding," The debate on bridge tolls has been further muddied by the prospect of more road charging generally, which is something many hauliers take a very pragmatic attitude towards. If the savings in delays and operating costs outweigh the cost of the toll, then most hauliers will pay it. It's a straightforward cost/benefit analysis.
This is why the FTA has said firmly in the past that once bridges are paid for, tolls should cease, but it has also admitted that it can see some potential benefits from road charging.
The way UK tolls work is becoming more fragmented. In February, Scotland scrapped its last two bridge tolls, on the Forth and Tay bridges, so the question is now if the rest of the UK will one day follow this example.
England and Wales will certainly look at the consequences of scrapping the toll on the Forth Bridge. The maintenance costs of the bridge will now be funded centrally by the Scottish government through a direct grant, possibly supplemented by money for capital schemes.
The other potential consequence of scrapping tolls is that traffic might move a little more smoothly across the bridge, although a spokesman for the bridge operator says it is too early to say if this will have much effect on the Forth Bridge. This is because since the tolls were scrapped, there have been roadworks on the approach to the bridge going north following the removal of the toll booths. Only when this work has been completed will any potential benefit in cutting crossing times become clearer.
The outcome will be of interest to hauliers using other toll bridges, because the delays caused by collecting tolls are probably the second biggest complaint after actually paying the tolls in the first place.
The Dartford Crossing in Kent is among those that has been the subject of hauliers' ire over delays, particularly when accidents cause queues.
David Salter, director at Purfleetbased Atlas Freight, says: "When there is an accident, and you've got a 10-mile queue. they should open it up and clear the route quickly. What they do is continue with the queue, literally for hours, rather than lose a penny in tolls."
Hauliers who use the Dartford Crossing frequently would like the government to extend a plan to allow local residents discounts on the crossing. Under the proposals, announced in February and now under consultation, local people will be allowed 50 free journeys a year, and after those are used up, they will pay just 20p per crossing. Local hauliers will not benefit because the scheme is limited to private cars.
Salter says: If they are going to do this, they should include local firms.
But even a discount would not change the attitude of the hardline anti-tollists, who believe that once construction costs are covered, tolls should stop. In the case of Dartford, this has already happened in 2003, according to some estimates in other cases it has not. At the Severn Bridge, the operator has a concession to charge tolls until 2016. It isn't known what the government's position will be after that.
Rising tolls Perhaps the most famous example of a bridge where tolls would never settle its full debt is the Humber Bridge. Tolls here are due to rise again this year, although it is not clear by how much, which would take the current truck toll of £18.30, already the highest bridge charge in the country, even higher.
Of course, the Humber has never been economic. The government has already cancelled £60m-worth of debt, recognising that because of interest payments, toll revenue would never repay it. This still leaves the bridge with a debt of £330m, repayments on which absorb about 70% of the bridge's income. The debt should be repaid by 2035, according to calculations.
The Humber Bridge has been an unmitigated financial disaster. Yet how it will be judged in the future remains to be seen. It does provide an important crossing, both for hauliers and others, and it is also, as many locals will tell you, a civil engineering triumph. For many years, it was the longest single-span suspension bridge in the world, and. perhaps more importantly, it has become a symbol of Hull.
In a smaller way, it is not entirely dissimilar to the Channel Tunnel. The cost of the scheme has never really been justified in purely economic terms. Yet there are few who would wish that it had never been built. •