A Six-wheeler's Splendid Record on Quarry Work
29th May 1942
Page 31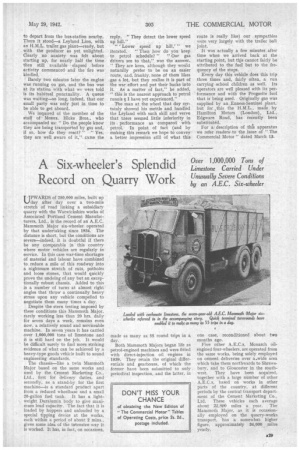 Page 31, 29th May 1942 —
A Six-wheeler's Splendid Record on Quarry Work
Close
Over 1,000,000 Tons of Limestone Carried Under Unusually Severe Conditions by an A.E.C. Six-wheeler
UPWARDS of 280,000 miles, built up day after day over a two-mile stretch of road linking a subsidiary quarry with the Warwickshire works of Associated Portland Cement Manufacturers, Ltd., is the record of an A.E.C. Mammoth Major six-wheeler operated by that undertaking since 1934. The distance is short, but the conditions are severe—indeed, it is doubtful if there be any comparable in this country where motor vehicles are regularly in service. In this case war-time shortages of material and labour have combined to reduce a mile of this roadway into a nightmare stretch of ruts, potholes and loose stones, that would quickly prove the undoing of any but an exceptionally robust chassis. Added to this is a number of turns at almost right angles that throw a continually heavy stress upon any vehicle compelled to negotiate them many times a day.
Despite the stern testing imposed by these conditions this Mammoth Major, rarely working less than 20 hrs, daily for. seven days a week, remains even now, a relatively sound and serviceable machine. In seven years it has carried over 1,000,000 tons of limestone and it is still hard on the job. It would be difficult surely to find more striking evidence of what can be achieved by a heavy-type goods vehicle built to sound engineering standards.
The chassis—like a twin Mammoth Major based on the same works and used by the Cement Marketing Co., Ltd., first for delivery duties, and secondly, as a stand-by for the first machine—is a standard product apart from a reduced wheelbase and a small 20-gallon fuel tank. It has a lightweight Duralumin body to give maximum load capacity. The fact that it is loaded by hoppers and unloaded by a special tipping device at the works,. each within a period. of about 2 reins,, gives some idea of the intensive way it is worked. It has, in fact, on occasions,
made as many as 55 round trips in a day.
Both Mammoth Majors began life as petrol-engined machines and were fitted with direct-injection oil engines in 1939. They retain the original differentials and gearboxes, of which the former have been submitted to only periodical inspection, and the latter, in one case, reconditioned about two months ago.
Five other A.E.C.s, Monarch oilengined four-wheelers, are operated from the same works, being solely employed on cement deliveries over a-wide area which take them northwards to Shrewsbury, and to Gloucester in the southwest. They have been acquired. together with a large number of other A.E.C.s, based on works in other parts of the country, at different periods by the central transport department of the Cement Marketing Co., Ltd. These vehicles each average about 22,8D0 miles a year. The Mammoth Major, as it is occasionally employed on the quarry-works transport, has a somewhat. higher figure, approximately 34,000 miles yearly.