New Form of Railway Attack
29th May 1936
Page 55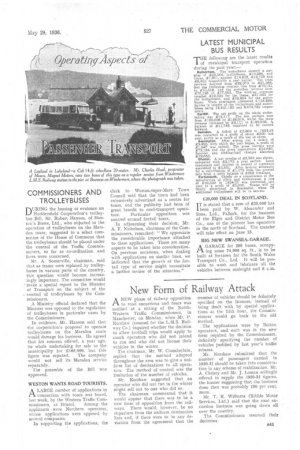 Page 55, 29th May 1936 —
New Form of Railway Attack
Close
ANEW phase of Ailway opposition to road excursions and tours was notified at a sitting of the NorthWestern Traffic Commissioners, in Manchester, on Monday, when Mr. P. Kershaw (counsel for the L.M.S. Railway Co.) inquired whether the decision to allow football trips would apply to coach operators who did not intend to run and who did not license their vehicles in the winter.
The chairman, Mr. W. Chamberlain., replied that the method adopted throughout the area was to give a uniform list of destinations to all operators. The method of control was the limitation of the number of vehicles.
Mr. Kershawsuggested that an operator who did not run in the winter might sell out to one who did so.
The chairman commented that it would appear that there was to be a new form of opposition from the railways. There would, however, be no departure from the uniform destination lists anti, if there were to he any deviation from the agreement that the number of vehicles should be definitely specified on the licences; instead of being dealt with by special applications at the I 1 th hour, the Commissioners would go back to the old method.
The applications were by Bolton operators, and each was in the new form required by the Commissioners, definitely specifying the number of vehicles justified by last year's traffic returns.
Mr. Kershaw submitted that the number of passengers carried in 1930-31 should be taken into consideration in any scheme of stabilization. Mr. A. Christy and Mr. J. Lomax willingly offered to supply the 1930-31 figures, the former suggesting that the business done then was probably 100 per cent. more.
Mr. T. R. Williams (Ribble Motor Services, Ltd.) said that the road excursion business was going down all over the country.
The Commissioners reserved their decisions.