LATEST MUNICIPAL BUS RESULTS
29th May 1936
Page 55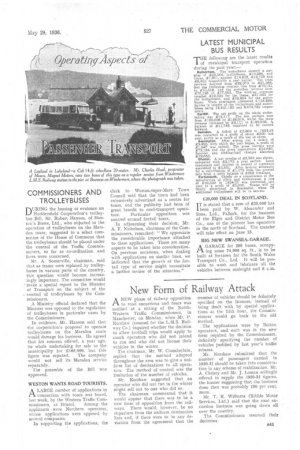 Page 55, 29th May 1936 —
LATEST MUNICIPAL BUS RESULTS
Close
THE following are the latest results of municipal transport operation
during the past year:—
Rotherham. The motorbuses showed a surplus of 420.364, trollerbuses, 416286, and trams, 47,801, against 414,859,, 412.729 and £8,4-65 respectively a year earlier. T-he tram revenue declined from 4242,070 in 421,584, but the trolleybus receipts rose from 470,12; to 473,318, and the motorbus revenue from 470,126 to 477,962. The work.ng exx-nses totalled £.12,335 for the trams, £47,043 foe the trolleybuses, and 452,894 for the motor uses. Tram passengers. numbered 4,124,280, figures in respect of the trolleybuses and motorbuses being 12,431,1435 and 8,672,785 teepee tivCealrdi7.11t. The net profit on the whole undertaking was 412,317. The bus receipts rose from 4180,008 to 4188,216, whilst the tram -revenue increased by 42,111 to £189,932. A. balance of 411,748 remained to be carried forward. steineen. A deficit of 43,-800 in .1934-35 was converted to a profit of about 4300 last year, partly as a result of the use oi oilers.
Accrington. After wiping out a deficit of 43,495, with which the year began, a profit of 41,047 was earned. The gross receipts were 472,184 and the *Toss expenditure 454,940. Interest, and sinking-fund charges absorbed 412,665.
chaster. A net surplus of £2,369 was shown, Compared with 42,175 a year earlier. Loan repayment and interest in respect of tramways amounted to 43,451. After making allowance for a contribution of 81,17-9 from the general rate fund, a debit balance of 4968 remained. Portsmouth. Chiefly as a consequence of the introduction of oilers and trolleybuses, a lose of £.10,500 in 193435 was conventect last year to a profit of 45,000. Trams will be finally abandoned in September, when 76 additional trolleyibuses will be in service.