Modern Chemical Fire-extinguishing, Equipment
29th May 1936
Page 54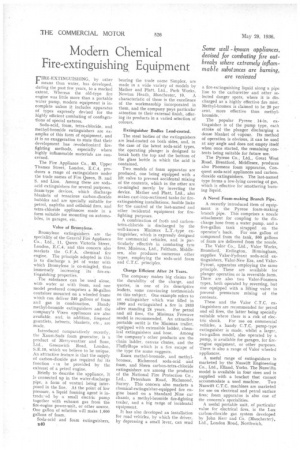 Page 54, 29th May 1936 —
Modern Chemical Fire-extinguishing, Equipment
Close
FIRE-EXTINGUISHING, by other means than water, has developed, during the past few years, to a marked extent. Whereas the old-type fire engine was little more than a portable water pump, modem equipment is incomplete unless it includes apparatus of types expressly devised for the highly efficient combating of conflagrations of special natures.
Soda-acid, foam, tetra-chloride, and methyl-bromide extinguishers are examples of this form of equipment, and it is no exaggeration to state that their development has revolutionized firefighting methods, especially where highly inflammable materials are concerned.
The Fire Appliance Co., 83, Upper Thames Street, London, E.C.4, produces a range of extinguishers under the trade names of Fire Queen, B. and S. and Lion. Among these are sodaacid extinguishers for several purposes, foam-type devices, which discharge blankets of tenacious carbon-dioxide bubbles and are specially suitable for petrol, naphtha and celluloid fires, and tetra-chloride appliances made in a form suitable for mounting on automobiles, in garages, etc.
Value of Bromylene. • Bromylene extinguishers are the speciality of the General Fire Appliance Co., Ltd., 11, Queen Victoria Street, London, E.C.4, and this concern also markets the G.F.A. chemical fire engine. The principle adopted in this is to discharge a jet of water with which Bromylene is co-mingled, thus immensely increasing its fire-extinguishing properties.
The substance can be used alone, with water ar with foam, and one model produced comprises a 30-gallon container mounted on a wheeled frame which can deliver 240 gallons of foam and gas in combination. Handy methyl-bromide extinguishers and the company's Vixen appliances are also available, and, in addition, fireproof gauntlets, helmets, blankets, etc., are made.
Jutroduced comparatively recently, the Xaust-Suds foam generator, is a product of Merryweather and Sons, Ltd., Greenwich Road, London, S.E.10, which we believe to be unique. An attractive feature is that the supply of carbon-dioxide gas required for its function ins be provided by the exhaust of a petrol engine.
Briefly to describe the appliance, it is connected up in the water-discharge pipe, a form of venturi being inter posed in the line. At the point of low pressure, a liquid foaming agent is in trodn-ed by a small electric pump together with exhaust gas from the fire-engine power-unit, or other source. One gallon of solution will make 1,000 gallons of foam.
Soda-acid and foam extinguishers, 1340 bearing the trade name Simplex, are made in a wide variety of models by Mather and Platt, Ltd., Park Works, Newton Heath, Manchester, 10. A characteristic of these is the excellence of the workmanship incorporated in them, and the company pays particular attention to their external finish, offering its products in a varied selection of colours.
Extinguisher Bodies Lead-coated. The steel bodies of the extinguishers are lead-coated on both sides, and, in the case of the latest soda-acid types, the operating plunger is designed to break both the top and the bottom of the glass bottle in which the acid is contained.
Two models of foam apparatus are produced, one being equipped with a lift valve to prevent accidental mixing of the contents, which in the other are co-mingled merely by inverting the device. Mather and Platt, Ltd., also makes cast-iron-sectioned tanks for fireextinguishing installations, fusible links for the control of the last-named and other incidental equipment for firefighting purposes, A combination of froth and carbontetra-chloride is discharged by the well-known Minimax L.T.-type extinguisher, which is expressly designed for commercial vehicles, and is particularly effectWe in combating tyre fires, Minimax, Ltd., Feltham, Middlesex, also produces numerous other types, employing the soda-acid foam and C.T.C. principles.
Charge Efficient After 24 Years.
The company makes big claims for the durability of the charge, and quotes, in one of its descriptive leaflets, some convincing testimonials on this subject. One example refers to an extinguisher which was filled in 1909 and extinguished a fire in 1933 after standing 24 years. For petrol and oil fires, the Minimax Frowave model is recommended. An attractive portable outfit is the Minimax trailer, equipped with extensible ladder, chemical extinguishers and hose. Among the company's other products are the chain ladder, canvas chutes, and the FluffyRope which is a fire escape of the type the name suggests.
Essex methyl-bromide, and methylbromex, Richmond soda-acid and foam, and Sheen carbon-tetra-chloride extinguishers are among the products of the National Fire Protection Co., Ltd., Petersham Road, Richmond, Surrey. This concern also markets a chemical-extinguisher-equipped fire engine based on a Standard Nine car chassis, a methyl-bromide fire-fighting trailer, and a big range of incidental equipment.
It has also developed an installation for road vehicles, by which the driver, by depressing a small lever, can send a fire-extinguishing liquid along a pipe line to the carburetter and other selected danger spots, where it is discharged as a highly effective fire mist. Methyl-bromex is claimed to be 20 per cent, more effective than methylbromide.
The popular Pyrene , 14-in, extinguisher is of the pump type, each stroke of the plunger discharging a dense blanket of vapour. Its method of operation is obvious, it can be used at any angle and does not empty itself when once started, the remaining contents being suitable for future use.
The Pyrene Co., Ltd., Great West Road, Brentford, Middlesex, produces also Phomene foam apparatus, Conquest soda-acid appliances and carbondioxide extinguishers. The last-named type forms a low-lying covering of gas, which is effective for smothering burning liquid.
A Novel Foam-making Branch Pipe.
A recently introduced item of equipment is the Pyrene foam-making branch pipe. This comprises a nozzle attachment for coupling to the discharge hose from a water pump, and a five-gallon tank strapped on the operator's back. For one gallon of compound from the tank, 500 gallons of foam are delivered from the nozzle. The Valor Co., Ltd., Valor Works, Bromford, Erdington, Birmingham, supplies Valor-Fydrant soda-acid extinguishers, Valor-New Era, and ValorFyrout, apparatus employing the same principle. These are available for plunger operation or in reversible form. There are also two Valor-Foamera • types, both operated by reversing, but one equipped with a lifting valve to prevent premature mixing of the contents.
These and the Valor C.T.C. extinguishers are recommended for petrol and oil fires, the latter being specially suitable where there is a risk of elec
tric shock. For use on commercial vehicles, a handy C.T.C. pump-type extinguisher is made, whilst a larger, two-gallon model, also operated by a• pump, is available for garages, for fireengine equipment, or other purposes. There is also a range of Valor wheeled appliances.
A useful range of extinguishers is marketed by the Nuswift Engineering Co., Ltd., Elland, Yorks. The Nuswifta model is available in four sizes and is supplied with a bracket that cannot accommodate a used machine. Two Nuswift C.T.C. machines are marketed for use on electrical and petrol surface fires; foam apparatus is also one of the concern's specialities.
A useful portable unit, of particular • value for electrical fires, is the Lux carbon-dioxide gas system developed by John Kerr and Co. (Manchester), Ltd., London Road, Northwich.