Motors Revolutionize Fire-fighting Methods
29th May 1936
Page 50
Page 52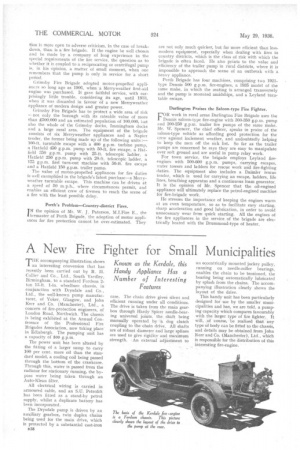 Page 50, 29th May 1936 —
Motors Revolutionize Fire-fighting Methods
Close
Fire Brigade Officials at Edinburgh, Grimsby, Perth and Darlington Point to the Value of Motor Appliances for Combating Present-day Fire Risks
, The Views of Edinburgh's Fire Chief.
THE president of the Professional Fire Brigades Association, Mr. Peter Methven, who is the Firemaster of Edinburgh, has some interesting views to express on the subject of fire fighting. He realizes that the development of motor vehicles and appliances has been of the utmost value to fire brigades and has enabled them to keep pace with the ever-increasing risks. In fact, co-operation between manufacturers and fire chiefs has resulted in the availability of a fine range of machines, suitable for all fire purposes. He acknowledges that every brigade has its own special problems, which include road conditions, limitations as to cost, etc.
The most up-to-date type of fire pump, which has a totally enclosed body, was designed for the Edinburgh Brigade in 1933. This kind of machine gives safety and protection to the crew and the gear, which is lacking in the open type. Mr. Methven tells us that this class of fire fighter has proved most successful at Edinburgh and that, in future, all machines for the brigade will be of the same pattern. By reason of the success which it is achieving, both at home and abroad, he foresees the general adoption of this type of body.
He expresses the view that an improvement in the heavier types of fire vehicle would result from the adoption of the torque converter to give better acceleration, hill
B36
climbing and ease of control. For use in cities and large. towns, the fire-engine with a 800-gallon pump is, he thinks, probably the best size, but smaller pumps, with hose reels and water tanks, should be included in the fleet. Fire escapes are equally essential, and the best outfit, in his opinion, is the turntable machine with an all-steel ladder, but he admits that the two-wheeled hand-worked escape, carried on a motor pump or other appliance, is an efficient substitute if funds be not available for the somewhat expensive turntable outfit, The fire pump is sometimes carried by the turntable escape, but Mr. Methven prefers to keep one tool for one job.
Another useful part of the equipment of a modern fire brigade is a service wagon for transporting spare supplies of hose, petrol, appliances and extra gear, and carrying two monitor nozzles, permanently mounted, for use at fires where big jets can be set and left unattended.
Grimsby's 30 Years' Expetience of Motors.
THE director of fire-fighting services at Grimsby, Mr. F. L. Bunn. A.M.I.F.E., thinks that the advent of the petrol motor into fire-brigade spheres has marked an epoch in -the work of fire extinction, since it permits an immediate turn-out, a high speed, the ability to travel long distances, and a small upkeep cost when not in use. He emphasizes the need for a reliable engine, because .no public organiza
tion is inore open to adverse criticism, in the case of breakdown, than is a fire brigade. If the engine be well chosen and be made by a company of long experience in the special requirements of the fire service, the question as to whether it is coupled to a reciprocating or centrifugal pump is, in his opinion, a matter of small moment, when one remembers that the pump is only in service for a short period.
Grimsby Fire Brigade adopted motor-propelled appliances so long ago as 1996, when:a Merryweather first-aid engine was purchased. It gave faithful service, with surprisingly little trouble, considering its age, until 1933, when it was discarded in faVOur of a new Merryweather• appliance of modern design and greater power.
Grimsby Fire Brigade has to protect a wide area of risk —not only the borough with its rateable value of more than 4500,000 and an estimated population of 100,000, but also the whole of the Grimsby docks, Immingham docks and a large rural area. The equipment of the brigade consists of six Merryweather appliances and a Napier tender, the former being made up of the following units :— 100-ft. turntable escape with a 400 g.p.m. turbine pump, a Hatfield 450 g.p.m. pump with 50-ft. fire escape, a Hatfield 850 g.p.m. pump with 25-ft. telescopic ladder, a Hatfield 250 g.p.m. pump with 20.-ft. telescopic ladder, a 175 g.p.m. first turn-out Machine with 50-ft. fire escape • and a Hatfield 150 g.p.m. trailer pump.
The value of motor-propelled appliances for fire duties is well exemplified in the brigade's latest purchase—a Merryweather turntable escape. This machine can be driven at a speed of 50 in.p.h., where circumstances permit, and enables an efficient crew of firemen to reach the scene of a fire with the least possible delay.
Perth's Problem—Country-district Fires.
pi the opinion of Mr. W. J. Paterson, M.I.Fire E., the firemaster of Perth Brigade, the adoption of motor appliinces for fire protection cannot be over-estimated, They
are not only much quicker, but far more efficient than lessmodern equipment, especially when dealing with fires in country districts, which is the class of risk with which the brigade is often faced. He also ppints to the value and efficiency of the trailer pump in rural districts, where it is impossible to approach the scene of an outbreak with a heavy appliance.
Perth Brigade has four machines, comprising two 1921type Dennis 500 g.p.m. fire--engines, a 1935 model of the same make, in which the seating is arranged transversely and the pump is mounted amidships, and a Leyland turntable escape.
Darlington Praises the Saloon-type Fire Fighter.
cOR work in rural areas Darlington Fire Brigade uses the
Dennis saloon-type fire-engine with 300-350 g.p.m. pump and 200-250 g.p.m. trailer fire pumps of the same make. Mr. W. Spencer, the chief officer, speaks in praise of the saloon-type vehicle as affording good protection for the crew against inclement weather, and undoubtedly helping to keep the men off the sick list. So far as the trailer pumps are concerned he says they are easy to manipulate over soft ground and are useful in pump relay work.
For town service, the brigade employs Leyland fireengines with 500-600 g.p.m. pumps, carrying escapes, water towers and ladders for rescue work and fire-fighting duties. The equipment also includes a Daimler rescue tender, which is used for carrying an escape, ladders, life lines, breathing apparatus and a continuous foam generator. It is the opinion of Mr. Spencer that the oil-engined appliance will ultimately replace the petrol-engined machine for fire-brigade work.
He stresses the importance of keeping the engines warm at an even temperature, so as to facilitate easy starting. sharp acceleration and good lubrication, in order to avoid unnecessary wear from quick starting. All the engines of the fire appliances in the service of the brigade are electrically heated with the Drummond-type of heater.