Road Transport Topics
29th May 1936
Page 45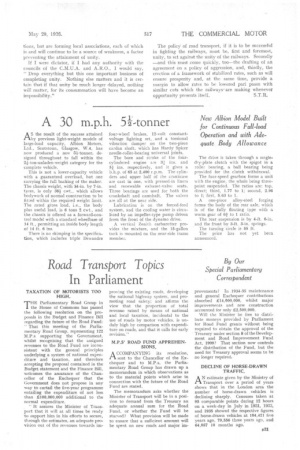 Page 45, 29th May 1936 —
Road Transport Topics
Close
In Parliament
By Our Special Parliamentary Correspondent
TAXATION OF MOTORISTS TOO HIGH.
THE Parliamentary Road Group in the House of Commons has passed the following resolution on the proposals in the Budget and Finance Bill regarding the future of the Road Fund: " That this meeting of the Parliamentary Road Group, representing 122 M.P.s supporting the Government, whilst recognising that the assigned revenues to the Road Fund are inconsistent with the general principles underlying a system of national expenditure and taxation, and therefore accepting the proposal contained in the Budget statement and the Finance Bill, welcomes the assurance of the Chancellor of the Exchequer that the Government does not propose in any way to curtail the five-year programme entailing the expenditure of not less than Z100,000,000 additional to the normal expenditure,
. " It assures the Minister of Transport that it will at all times be ready to support him in his efforts to secure, through the estimates, an adequate provision out of the revenues towards im proving the existing roads, developing the national highway system, and promoting road safety; and affirms the view that the proportion of total revenue raised by means of national and local taxation, incidental to the use of roads by motor vehicles, is unduly high by comparison with expenditure on roads, and that it calls for early revision."
M.P.S' ROAD FUND APPREHENSIONS.
ACCOMPANYING its resolution, sent to the Chancellor of the Exchequer and to M.P.s, the Parliamentary Road Group has drawn up a memorandum in which observations as to the material points which arise in connection with the future of the Road Fund are stated.
The memorandum asks whether the Minister of Transport will be in a position to demand from the Treasury an adequate annual sum for the Road Fund, or whether the Fund will be starved? What provision will be made to ensure that a sufficient amount will be spent on new roads and major tin
provements? In 1934-35 maintenance and general Exchequer contributions absorbed £14,600,000, whilst major improvements and new construction accounted for only £2,500,000.
Will the Minister be free to distribute moneys provided by Parliament for Road Fund grants without being required to obtain the approval of the Treasury under section 8 of the Development and Road Improvement Fund Act, 1909? That section now controls the distribution of the Fund, but the need for Treasury approval seems to be no longer required.
DECLINE OF HORSE-DRAWN TRAFFIC,
AN estimate given by the Ministry of Transport over a period of years shows that in the London area the number of horse-drawn vehicles is declining sharply. Censuses taken at 95 comparable points during 12 hours on a week-day in July in 1931, 1933, and 1935 showed the respective figures of horse-drawn vehicles at 104,421 five years ago, 79.556 three years ago, and 64,057 10 months ago.