Objection to Production of Rates
29th May 1936
Page 38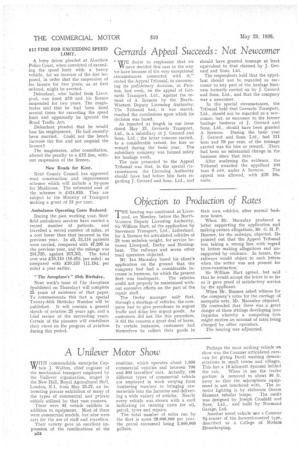 Page 38, 29th May 1936 —
Objection to Production of Rates
Close
THE hearing was continued, at Liver
pool. on Monday, before the NorthWestern Deputy Licensing Authority, Sir William Hart, of the application by Stevenson Transport, Ltd., Litherland. for A licences for articulated vehicles of 28 tons unladen weight, for service between Liverpool, Derby and Nottingham. The railways and seven other road operators objected.
Mr. Ian Macaulay based his client's application on the ground that the company had had a considerable increase in business, for which the present fleet was inadequate. The vehicles could not properly be maintained without excessive efforts on the part of the repair staff.
The Derby manager said' that, through a shortage of vehicles, the company had to give precedence to urgent traffic and delay less urgent goods. As customers did not like this procedure, it did the concern a great deal of harm. In certain instances, customers had themselves to collect their goods in their own vehicles, after normal business hours.
When Mr. Macaulay produced a letter supporting the application and making certain allegations, Mr. G. H. P. Bea.mes, for the railways, objected. He pointed out that the Appeal Tribunal was taking a strong line with' regard to letters making allegations and unsupported by evidence. In future, the railways would object to such letters when the writer was not present for cross-examination: Sir William Hart agreed, but said that he would, accept the letter in so far as it gave proof of satisfactory service by the applicant.
When Mr.. Beanies asked witness for the company's rates for the carriage of mosquito nets, Mr. Macaulay objected. He contended that there was a great danger of these sittings deVeloping into inquiries whereby a competing firm might receive an account of rates being charged by other operators.
The hearing was adjourned.