A Unilever Motor Show.
29th May 1936
Page 38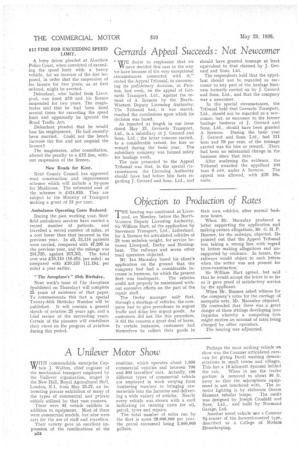 Page 38, 29th May 1936 —
A Unilever Motor Show.
Close
WITH commendable enterprise CapVV tam n J. Walton, chief engineer of the mechanical transport employed by the Unilever organization, staged in the New Hall, Royal Agricultural Hall, London, N.1, from May 25-27, an interesting private exhibition of many of the types of commercial and private vehicle utilized by that vast concern.
There were 35. vehicle exhibits in addition to equipment. Most of them were commercial models, but nine were cars for the use of staff and travellers,•
Their variety gave an excellent impression of the ramifications of the ;324 combine, which operates about 1,600 commercial vehicles and between 700 and 800 travellers' cars. Actually, 100 different types of commercial vehicle are employed in work varying from bunkering trawlers to bringing raw materials into the factories and delivering a wide variety of articles. Nearly every vehicle was shown with a card indicating its running costs for oil, petrol, tyres and repairs.
The total number of miles run by the fleet is some 28,000,000 per year, the petrol consumed being 2,500,000 gallons. Perhaps the most striking vehicle on show was the Commer articulated caravan for giving Persil washing demonstrations in small towns and villages. This has a 15-kilowatt dynamo behind the cab. When in use the trailer portion is removed to about 30, ft. away so that the microphone equipment is not interfered with. The interior lighting is by elaborate Osram filament tubular lamps. The outfit was designed by Joseph Crosfield and Sons, Ltd., and built by Normand Garage, Ltd.
Another novel vehicle Isis a Commer 2i-tonner of the forward-control type, described as a College of Modern Housekeeping.