Rail Transport Too Slow T HE contention that the railway service
29th May 1936
Page 36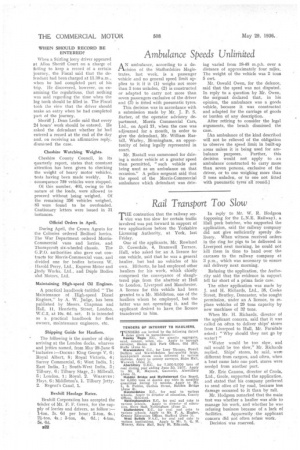 Page 36, 29th May 1936 —
Rail Transport Too Slow T HE contention that the railway service
Close
was too slow for certain traffic involved was put forward in support of two applications before the Yorkshire Licensing Authority, at York, last Friday.
One of the applicants, Mr. Rowland D. Coverdale, 4, Bramwell Terrace, Hull, who asked for anA licence for one vehicle, said that he was a general haulier, but had no vehicles of his own. Hitherto, he had employed other hauliers for his work, which chiefly comprised the conveyance of slaughtered pigs, from the abattoir at Hull to London, Liverpool and Manchester. A licence for this vehicle had been granted to a Mr. Middleton, one of the hauliers whom he employed, but the latter was not operating it, and the applicant desired to have the licence transferred to him.
In reply to Mr. W. R. Hodgson (opposing for the L.N.E. Railway), a Hull pork butcher, who supported the application, said the railway company did not give sufficiently speedy delivery. When witness received orders in the ring for pigs to be delivered in Liverpool next morning, he could not kill them in time to hand over the carcases to the railway company at 3 p.m., which was necessary to ensure rail delivery next morning.
Refusing the application, the Authority said that the evidence in support fell far short of a prima facie case.
The other application was made by J. and H. Richards, Ltd., 38, Cooke Street, Bentley, Doncaster, who sought permission, under an A licence, to replace vehicles of 29 tons capacity by new machines of 32 tons.
When Mr. H. Richards, director of the applicant concern, said that it was called on often to deliver ships' stores from Liverpool to Hull, Mr. Farndale asked : "Why should they not go by water? "
"Water would be too slow, and rail would be too slow," Mr. Richards replied. Ships' stores, he said, welt different from cargoes, and often, when a boat came into one port, stores were needed from another port.
Mr. Eric Cannon, director of Croda, Ltd., Goole, supported the application, and stated that his company preferred to send olive oil by road, because less damage occurred to it than by rail.
Mr. Hodgson remarked that the main test was whether a haulier was able to manage his work, and whether he was refusing business because of a lack of facilities. Apparently the applicant concern did not often refuse work. Decision' was reserved.