Ambulance Speeds Unlimited
29th May 1936
Page 36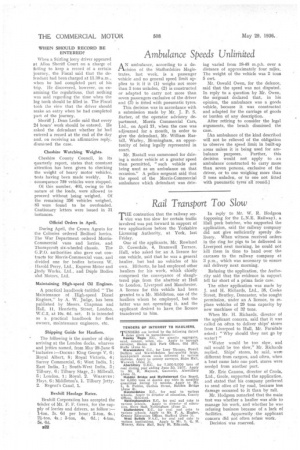 Page 36, 29th May 1936 —
Ambulance Speeds Unlimited
Close
AN ambulance, according to a decision of the Staffordshire Magistrates, last week, is a passenger vehicle and no general speed limit applies to it if it (1) weighs not more than 3 tons unladen, (2) is constructed or adapted to carry not more than seven passengers exclusive of the driver and (3) is fitted with pneumatic tyres.
This decision was in accordance with a submission made by Mr. J. P. S. Barber, of the operator advisory department, Morris Commercial Cars, Ltd., on April 21, when the case was adjourned for a month, in order to give the defendant, Mr. William Rasta% VVarley, Birmingham, an opportunity of being legally represented in court.
Mr. Rastall was summoned for driving a motor vehicle at a greater speed than permitted, " such vehicle not being used as an ambulance on that occasion." A police sergeant said that the speed of the Morris-Commercial ambulance which defendant was driv ing varied from 38-48 m.p.h. over a distance of approximately four miles. The weight of the vehicle was 2 Cons 5 cwt.
Mr. Oswald Owen, for the defence, said that the speed was not disputed. In reply to a question by Mr. Owen, the sergeant declared that, in his opinion, the ambulance was a goods vehicle, because it was constructed and adapted for the carriage of goods or burden of any description.
After retiring to consider the legal arguments, the bench dismissed the case.
[An ambulance of the kind described will not be relieved of the obligation to observe the speed limit in built-up areas unless it is being used for ambulance purposes. Further, this decision would not apply to an ambulance constructed to carry more than seven persons, exclusive of the driver, or to one weighing more than 3 tons unladen, or to one not fitted with pneumatic tyres all round.]