One Hears
29th May 1936
Page 33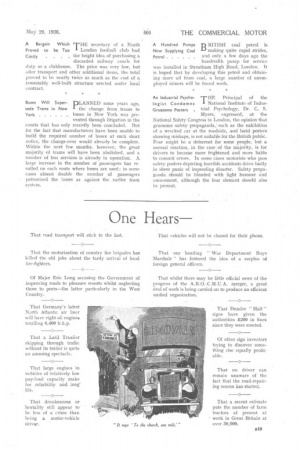 Page 33, 29th May 1936 —
One Hears
Close
That road transport will stick to the last.
That the motorization of country fire brigades has killed the old joke about the tardy arrival of local Li re-fighters.
Of Major Eric Long accusing the Government of improving roads to pleasure resorts whilst neglecting those to ports—the latter particularly in the West Country.
That Germany's latest North Atlantic air liner will have eight oil engines; totalling 6,400 b.h.p.
That a Lath l Traulier skipping through traffic without its trailer is quite an amusing spectacle.
That large engines in vehicles of relatively low pay-load capacity make for reliability and long' life.
That drunkenness or brutality still appear to be less of a crime than being a moter-vehicle drivur. That vehicles will not be chased for their phons.
That our heading " War Department Buys Marshals " has fostered the idea of a surplus of foreign general officers.
That whilst there may be little official news of the progress of the A.R.0.-C.M.U.A, merger, a great deal of work is being carried on to produce an efficient Unified organization.
That Dundee " Halt" signs have given the authorities £200 in fines since they were erected.
• Of other sign inventors trying to discover something else equally profitable.
That no driver can remain unaware of the fact that the road-repairing season has started.
That a recent estimate puts the number of farm tractors at present at work in Great Britain at over 30,000,