Passing Comments Coach May Be Used A N interesting advantage of as a Portable Grandr - s•the coach, as compared with
29th May 1936
Page 32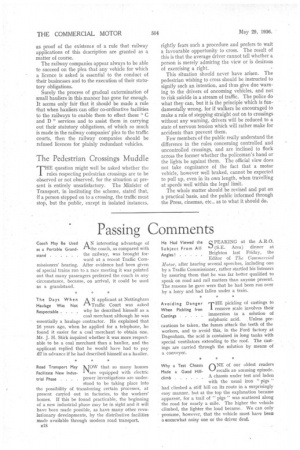 Page 33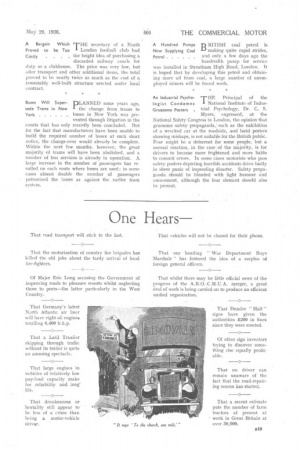 Page 32, 29th May 1936 —
Passing Comments Coach May Be Used A N interesting advantage of as a Portable Grandr - s•the coach, as compared with
Close
stand the railway, was brought for ward at a recent Traffic Commissioners' hearing. After evidence had been given of special trains run to a race meeting it was pointed out that many passengers preferred the coach in any circumstance, because, on arrival, it could be used as a grandstand.
AN applicant at Nottingham Traffic Court was asked why he described himself as a coal merchant although he was essentially a haulage contractor. He explained that 16 years ago, when he applied for a telephone, he found it easier for a coal .merchant to obtain one. Mr. J. H. Stirk inquired whether it was more, respectable to be a coal merchant than a haulier, and the applicant replied that he would have had to pay 27 in advance if he had described himself as a haulier.
The Days When Haulage Was Not Respectable . . .
Road Transport May Facilitate New Indus
NOW that so many houses are equipped with electric power investigations are understood to be taking place into the possibility of transferring certain processes, at present carried out in factories, to the workers' homes. If this be found practicable, the beginning of a new industrial phase may be in sight and it will have been made possible, as have many other revolutionary developments, by the distributive facilities made available through modern road transport.
trial Phase .
He Had Viewed the QPEAKING at the A.R.O. Subject From All 'kJ (S.E. Area) dinner at Angles Brighton last Friday, the Editor of The Commercial Motor, after hearing several speeches, including one by a Traffic Commissioner, rather startled his listeners by assuring them that he was far better qualified to speak on road and rail matters than anyone present. The reasons he gave were that he had been run over by a lorry and had fallen under a train.
Avoiding Danger fr HE pickling of castings to
When Pickling Iron I remove scale involves their
Castings immersion in a solution of
sulphuric acid. Unless precautions be taken, the fumes attack the teeth of the workers, and to avoid this, in the Ford factory at Dagenham, the acid is contained in long tanks with special ventilators extending to the roof. The castings are carried through the solution by means of a conveyer.
ONE of our oldest readers recalls an amusing episode. A chassis under test and laden with the usual iron " pigs " had climbed a stiff hill on its route in a surprisingly easy manner, but at the top the explanation became apparent, for a trail of " pigs " was scattered along the road for nearly a mile. The higher the vehicle climbed, the lighter the load became. We can only presume, however, that the vehicle must have been a 4s omewhat noisy one or the driver deaf. Why a Test Chassis Made a Good Hill
climb
A Bargain Which HE secretary of a North Proved to be Too I London football club had Costly the bright idea of purchasing a discarded railway coach for duty as a clubhouse. The price was very low, but after transport and other additional items, the total proved to be nearly twice as much as the cost of a reasonably well-built structure erected under local contract.
Buses Will SuperLA.NNED some years ago,
sede Trams in New the change from trams to York buses in New York was pie vented through litigation in the courts that has only recently been concluded. But for the fact that manufacturers have been unable to build the required number of buses at such short notice, the change-over would already be complete. Within the next few months, however, the great majority of trams will have been abolished, and a number of bus services is already in operation. A large increase in the number of passengers has resulted on each route where buses are used ; in some cases almost double the number of passengers patronized the buses as against the earlier tram system. A Hundred Pumps RITISH coal petrol is
Now Supplying Coal 1--/ making quite rapid strides,
Petrol and only a few days ago the hundredth pump for service was installed in Streatham High Road, London. It is hoped that by developing this petrol and obtaining more oil from coal, a large number of unemployed miners will be found work.
An Industrial Psychologist Condemns Gruesome Posters . THE Principal of the National Institute of Industrial. Psychology, Dr. C. S. Myers, expressed, at the National Safety Congress in London, the opinion that gruesome safety propaganda, such as the exhibition of a wrecked ear at the roadside, and lurid posters showing mishaps, is not suitable for the British public. Fear might be a. deterrent for some people, but a normal reaction, in the case of the majority, is for drivers to become more frightened and more liable to commit errors. In some cases motorists who pass safety posters depicting horrible accidents drive badly in sheer panic of impending disaster. Safety propaganda should be blended with light humour and amusement, although the fear element should also lie present.