WHERE To FIND HAULAGE
29th March 1932
Page 61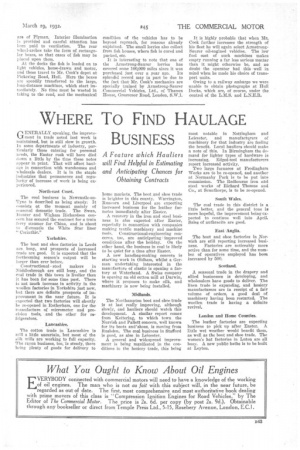 Page 61, 29th March 1932 —
WHERE To FIND HAULAGE
Close
BUSINESS
A Feature which Hauliers will Find Helpful in Estimating and Anticipating Chances for Obtaining Contracts
GENERALLY speaking, the improvelament in trade noted last week is maintained, but is still slow in growth. In some departments of industry, particularly those catering for personal needs, the Easter rush will have died down a little by the time these notes appear in print. That will affect haulop,e in connection with warehouses and 'wholesale dealers. It is in the staple industries that permanence and regularity of increase of work is being ex, perieneed.
North-east Coast.
The coal business in Newcastle-onTyne is described as being steady: It r-onsists at the moment mainly of seasonal domestic trade. The Swan, Pi tinter and IVigliam Richardson concern has secured the contract for a train ferry steamer for China, and is about to dismantle the White Star liner " Co. rin thic."
Yorkshire.
The boot and shoe factories in Leeds ara. busy, and prospects of increased trade are good. It is expected that the forthcoming season's output will be larger than ever before.
Constructionalsteel makers in :Middlesbrough are still busy, and the coal trade in this town is livelier than it has been for some time past. There is not much increase in activity in the woollen factories in Yorkshire just now, but there are definite prospects of improvement in the near future. It is expected that two factories will shortly be re-opened in Rotherham, one for the manufacture of micrometer and preciqion tools, and the other fbr refrigerators.
Lancashire.
The cotton trade in Lancashire is still a little uncertain, but most of the silk mills are working. to full capacity. The rayon business, too, is steady, there being plenty of goods for delivery to
home markets. The boot.and shoe trade is brighter in this county. Warrington, Runcorn and Liverpool are expecting increased business for the leather factories immediately after Easter.
A recovery in the iron and steel business is also expected -after Easter, especially in connection with companies making textile machinery and machine tools. Constructional-engineering concerns, too, are anticipating; improved conditions after the holiday. On the other hand, the business in coal is likely to be quiet for a time after Easter.
A new handbag-making concern is starting work in Oldham, whilst a German undertaking interested in the manufacture of elastic is opening a factory at Waterhead. A Swiss company is opening an old cotton mill at Darwin, where it proposes to make silk, and machinery is now being installed, Midlands The Northampton boot and shoe trade is at last really improving, although slowly, and hauliers should watch this development. A similar report comes from Kettering, to which town the Nurrish and Palled concern, well known for its boots and'shoes, is moving from Rusliden. The coal business in Stafford is good, as also in Leicester.
A general and widespread improvement is being manifested in the conditions in the hosiery trade, this being most notable in Nottingham and Leicester, and manufactitrers of machinery for that industry are feeling the benefit, Local hauliers should make a note of this. In Birmingham the demand for lighter types of hardware is increasing. Edged-tool manufacturers report increased activity.
Two largo furnaces at Frodingham Works are to be re-opened, and another at Norm anby Park is to be put into commission. The Redbourne iron and steel works of Richard Thomas and Co., at Scunthorpe, is to be re-opened.
South Wales.
The coal trade in this district is a little better, and the general tone is more hopeful, the improvement being expected to continue well into AlriL Sales of anthracite are good.
East Anglia.
The boot and shoe factories in Norwich are still reporting increased business. Factories are noticeably more active than for some time, and the number, of operatives employed has been increased by 500.
Scotland.
A seasonal trade in the drapery and allied businesses is developing, and wholesalers have goods to deliver. The linen trade is expanding, and hosiery manufacturers are in receipt of a fair volume of orders, a good deal of machinery having been restarted. The woollen trade is having a definite revival.
London and Home Counties.
The leather factories are expecting business to pick up after Easter. A little wet weather would benefit them, as well as the boot and shoe trade. The women's hat factories in Luton are all busy. A new public baths is to be built at Leyton.