National Fish Supplies by Road
29th March 1932
Page 60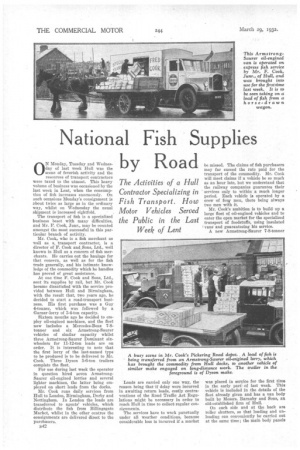 Page 61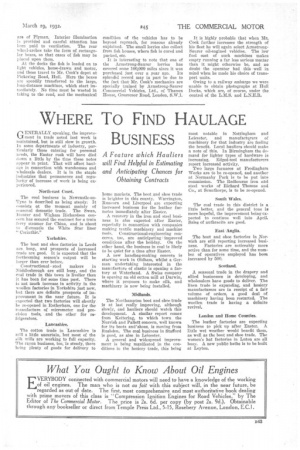 Page 60, 29th March 1932 —
National Fish Supplies by Road
Close
The Activities of a Hull Contractor Specializing in Fish Transport. How Motor Vehicles Served the Public in the Last Week of Lent
ON Monday, Tuesday and Wednesday of last week Hull was the scene of feverish activity and the resources of transport contractors were taxed to the utmost. This heavy volume of business was occasioned by the last week in Lent, when the consumption of fish increases enormously. On such occasions Monday's consignment is about twice as large as in the ordinary way, whilst on Wednesday the usual shipment is increased eightfold. .
The transport of fish is a specialized business beset with many difficulties, and Mr. F. Cook, Junr., may be counted amongst the most successful in this particular branch of activity.
Mr. Cook, who is a fish merchant as well as a, transport contractor, is a director of P. Cook and Sons, Ltd.' well known in Hull as a concern of fish merchants. He carries out the haulage for that concern, as well as for the fish trade generally, and his intimate knowledge of the commodity which he handles has proved of great assistance.
At one time F. Cook and Sons, Ltd., sent its supplies by rail, but Mr. Cook became dissatisfied with the service provided between Hull and Birmingham, with the result that, two years ago, be decided to start a road-transport business. His first purchase was a Guy 44onner, which was followed by a Garner.lorry of 3-4-ton capacity.
Sixteen months ago he decided to employ oil-engined machines, and the fleet now includes a Mercedes-Benz 7-8tonner and six Armstrong-Saurer vehicles of similar capacity whilst three Armstrong-Saurer Dominant sixwheelers for I1-12-ton loads are on order. It is interesting to note that the first lorry of the last-named type to be produced is to be delivered to Mr. Cook. Three Dyson 5-6-ton trailers complete the fleet.
For use during last week the operator in question hired seven ArmstrongSaurer oil-engined lorries and several lighter machines, the latter being employed on short leads from the docks.
Mr. Cook runs daily services from Hull to London, Birmingham, Derby and Nottingham. In London the loads are transferred to agents' vehicles, which distribute the fish from Billingsgate Market, whilst in the other centres the consignments are delivered direct to the purchasers.
B42 Loads are carried only one way, the reason being that if delay were incurred in awaiting return loads, costly contraventions of the Road Traffic Act Regulations might be necessary in order to reach Hull in time to collect regular consignments.
The services have to work punctually under all weather conditions, because considerable loss is incurred if a market be missed. The claims of fish purchasers may far exceed the rate paid for the transport of the commodity. Mr. Cook will meet claims if a vehicle be so much as an hour late, but we understand that the railway companies guarantee their services only to within a much longer period. Each vehicle is operated by a crew of four men, there being always two men with it.
Mr. Cook's ambition is to build up a large fleet of oil-engined vehicles and to enter the open market for the specialized transport of foodstuffs, using insulated I vans and guaranteeing his service.
A new Armstrong-Saurer 7-8-tonner was placed in service for the first time in the early pare of last week. This vehicle is included in the details of the fleet already given and has a van body built by Messrs. Barnaby and Sons, an old-established firm of Hull.
On each side and at the back are roller shutters, so that loading and unloading can conveniently be carried out at the same time; the main body panels are of Plymax. Interior illumination is provided and careful attention has been paid to ventilation. The rear wheel-arches take the form of rectangular boxes, so that cases of 'fish may be placed upon them.
At the docks the fish is loaded on to light vehicles, horse-drawn and motor, and these travel to Mr. Cook's depot at Pickering Road, Hull. Here the boxes are speedily transferred to the large, long-distance machines, which start immediately. No time must be wasted in taking to the road, and the mechanical condition of the vehicles has to be beyond reproach, for reasons already explained. The small lorries also collect from fish houses, where fish is cured and packed, etc.
It is interesting to note that one of the Armstrong-Saurer lorries has covered some 100,000 miles since it was purchased just over a year ago. Its splendid record may in part be due to the fact that Mr. Cook's mechanics are specially trained by Armstrong-Saurer Commercial Vehicles, Ltd., of Thames House, Grosvenor Road, London, S.'W.1. It is highly probable that when Mir. Cook further increases the strength of his fleet he will again select ArmstrongSourer oil-engined vehicles. The low fuel cost of such machines makes empty running a far less serious matter than it might otherwise be, and no doubt the operator had this well in mind when he made his choice of transport units.
Owing to a railway embargo we were unable to obtain photographs at Hull Docks, which are, of course, under the control of the L.M.S. and L.N.E.R.