A Tyre Factory to Re-open.
29th March 1932
Page 39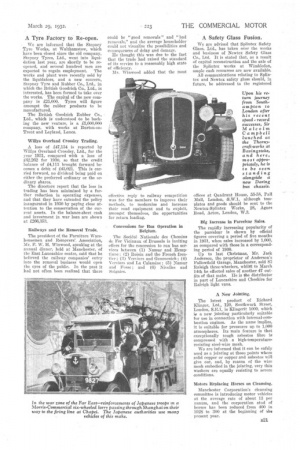 Page 39, 29th March 1932 —
A Tyre Factory to Re-open.
Close
We are informed that the Stepney Tyre Works, at Walthamstow, which have been closed since the old company, Stepney Tyres, Ltd., went into liquidation last year, are shortly to be reopened, and several hundred men are expected to regain employment. The works and plant were recently sold by the liquidators, and a new concern, Stepney Tyre and Rubber Co., Ltd., iu which the British Goodrich Co., Ltd., is interested, has been formed to take over the works. The capital of the new company is /25,000. Tyres will figure amongst the rubber products to be manufaetured.
The British Goodrich Rubber Co., Ltd., which is understood ito he backing the new venture, is a 11,000,000 company, with works at Burton-onTrent and Leyland, Lancs.
Willys Overland Crossley Trading.
A loss of 147,134 is reported by Willys Overland Crossley, Ltd., for the year 1931, compared with a loss of 162,262 for 1930, so that the credit balance of 14,113 brought forward becomes a debit of 143,021. This is carried forward, no dividend being paid on either the preferred ordinary or the ordinary shares.
The directors report that the loss in trading has been minimized by a further reduction in operating expenses, and that they have extended the policy inaugurated in 1930 by paying close attention to the conservation of the current assets. In the balance-sheet cash and investment in war loan are shown at 1266,353.
Railways and the Removal Trade.
The president of the Furniture Warehousemen and Removers' Association, Mr. F. W. H. Winwood, speaking at the annual dinner, held at Manchester. of the East Lancashire centre, said that he believed the railway companies' entry into the removal business would open the eyes of the public. In the past it had not often been realized that there could be "good removals" and "bad removals," and the average householder could not visualize the possibilities and consequences of delay and damage.
He thought this was due to the fact that the trade had raised the standard of its service to a reasonably high state of efficiency.
Mr. Winwood added that the most effective reply to railway competition was for the members to improve their methods, to modernize and increase their road equipment and to exploit, amongst themselves, the opportunities for return loading.
Concessions for Bus Operation in Belgium.
'The Societe Nationale des Chemins de Per Vicinaux of Brussels is inviting offers for the concession to run but services between (1) Namur and Hemptinne ; (2) Roisin and the French frontier; (3) Verviers and Gemmenieb ; (4) Verviers and La Calamine ; (5) Namur and Fosse; and (6) Nivelles and Soignies.
A Safety Glass Fusion.
We are advised that Splintex Safety Glass, Ltd., has taken over the works and business of Newtex Safety Glass Co., Ltd. It is stated that, as a result of capital reconstruction and the sale of the Splintex works at Wimbledon, ample cash resources are now available.
MI communications relating to Splintex and Newtex safety glass should, in future, be addressed to the registered offices at Quadrant House, 55-58, Pall Mall, London, 4S.W.1, although templates and goods should be sent to the Newtex-Splintex Works, 28, Agnes Road, Acton, London, W.3.
Big Increase in Parcelear Sales.
The rapidly increasing popularity of the parcelcar is shown by official figures covering a period of five months in 1931, when sales increased by 1,000, as compared with those in a corresponding period of 1930. Tip to last Christmas, Mr. Jack Anderson, the proprietor of Anderson's Fallowfield Garage, Manchester, sold 83 Raleigh three-wheelers, whilSt to March 14th he effected sales of another 47 outfits of that make. He is Vie distributor in part of Lancashire and Cheshire for Raleigh light vans.
A New Jointing.
The latest product of Richard Klinger, Ltd., 120, Southwark Street, London, S.E.1, is Klingerit 1000, which ic a new jointing particularly suitable for use in connection with internal-combustion engines. As the name implies, it is suitable for pressures up to 1,000 atmospheres. Its main feature is that exceptionally tough asbestos fibre is compressed with a high-temperatureresisting steel-wire mesh.
We are informed that it can be safely used as a jointing at these points where solid copper or copper and asbestos will give out, and, by reason of the wire mesh embodied in the jointing, very thin washers are equally resisting to severe conditions.
Motors Replacing Horses on Cleansing.
Manchester Corporation's cleansing conunittee is introducing motor vehicles at the average rate of about 13 per annum, and the corporation stud of horses has been reduced from 400 in 1928 to 300 at the beginning of iho present year.