ONE HEARS
29th March 1932
Page 37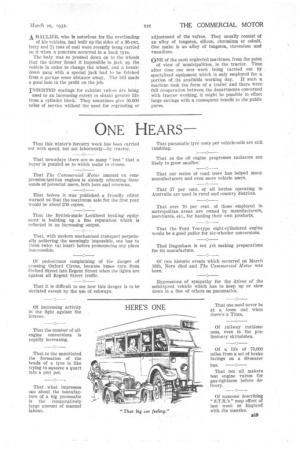 Page 37, 29th March 1932 —
ONE HEARS
Close
That this winter's forestry work has been carried out with speed, but not laboriously—by tractor.
That nowadays there are so many " best " that a buyer is puzzled as to which make to choose.
That The Commercial Motor manual on compression-ignition engines is already educating thousands of potential users, both here and overseas.
• That before it was 'published a friendly editor warned us that the maximum sale for the first year would be about 250 copies.
That the British-made Lockheed braking equipment is building up a fine reputation which is reflected in an increasing output.
That, with modern mechanized transport perpetually achieving the seemingly impossible, one has to think twice (at least) before pronouncing any place in accessible. • Of pedestrians complaining of the danger of crossing Oxford Circus, because buses turn from Oxford Street into Regent Street when the lights are against all Regent Street traffic.
That it is difficult to see how this danger is to be obviated except by the use of subways.
Of increasing activity in the fight against the Utterer.
That the number of oilengine conversions is rapidly increasing.
That to the uninitiated the formation of the beads of a tyre is like trying to squeeze a quart into a pint pot.
That . what impresses one about the manufacture of a big pneumatic is the comparatively large amount of manual labour. That pneumatic tyre costs per vehicle-mile are still tumbling.
That as the oil engine progresses radiators are likely to grow smaller.
That our series of road tests has helped many manufacturers and even more vehicle users.
That 57 per cent. of all lorries operating in Australia are used in rural and country districts.
That over 70 per cent. of those employed in metropolitan areas are owned by manufacturers, merchants, etc., for hauling their own products.
That the Ford Vee-type eight-cylindered engine would be a good puller for six-vvheeler conversions.
That Dagenham is not yet making preparations for its manufacture.
Of two historic events which occurred on March 16th, Nero died and The Commereial Motor was born.
Expressions of sympathy for the driver of the solid-tyred vehicle which has to keep up or slow down in a line of others on pneumatics.
That one need never be at a loose end when there's a Titan.
Of railway ruthlessness, even in the preliminary skirmishes.
Of a life of 70,000 miles from a set of brake facings on a 60-seater bus. 0 That not all makers test engine valves for gas-tightness before de. livery.
Of someone describing " S.T.R.'s " map effort of last week as England with the measles.