LOOSE LEAVES
29th March 1932
Page 36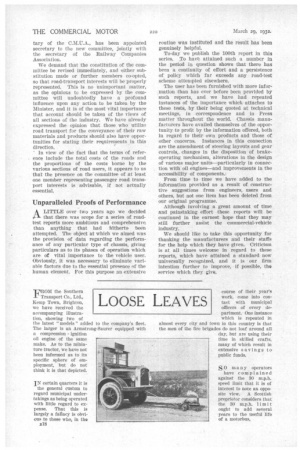 Page 37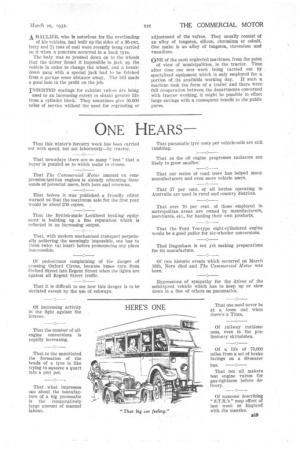 Page 36, 29th March 1932 —
LOOSE LEAVES
Close
FROM the Southern Transport Co., Ltd., Kemp Town, Brighton, we have received the accompanying illustration, showing two of the latest "models" added to the company's fleet. The larger is an Armstrong-Saurer equipped with a compression ignition oil engine of the same make. As to the miniature tractor, we have not been informed as to its specific sphere of employment, but do not think it is that depicted.
IN certain quarters it is the general custom to regard municipal undertakings as being operated with little regard to expense. That this is largely a fallacy is obvious to those who, in the 1318 course of their year's work, come into contact with municipal officers of every department. One instance which is repeated in almost every city and town in this country is that the men of the fire brigades do not loaf around all day, but are using their time in skilled crafts, many of which result in extensive s a v in gs to public funds.
SO many operators have complained against the 30 m.p.h. speed limit that it is of interest to note an opposite view. A Scottish proprietor considers that the 30 m.p.h, limit ought to acid several years to the useful life of a motorbus. A HATJLIER, who Is notorious for 'the overloading of his vehicles, had built up the sides of a 30-cwt. lorry and 21 tons of coal were recently being carried on it when a puncture occurred in a back tyre. The body waS so pressed down on to the wheels that the driver found it impossible to jack up the vehicle in order to change the wheel, and a breakdown gang with a special jaek had to be fetched from a garage some distance away. The bill made a good hole in the profit on the job.
INSERTED seatings for exhaust valves are being used to an increasing extent to obtain greater life from a cylinder block. They sometimes give 50,000 miles of service without the need for regrinding or adjustment of the valves. They usually consist of an alloy of tungsten, silicon, chromium or cobalt. One make is an alloy of tungsten, chromium and vanadium.
ONE of the most neglected machines, from the point of view of municipalities, is the tractor. Time after time one sees work being carried out by specialized equipment which is only employed for a portion of its available working day. If such a machine took the form of a trailer and there were full co-operation between the departments concerned with tractor working, it might be possible to effect large savings with a consequent benefit to the public purse.