A Million Miles a Year.
29th June 1911
Page 3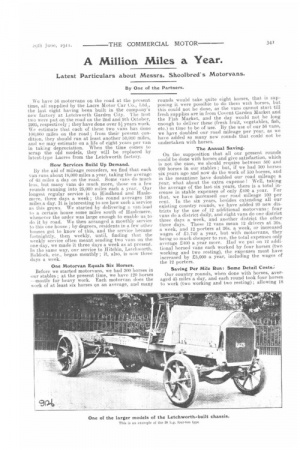 Page 4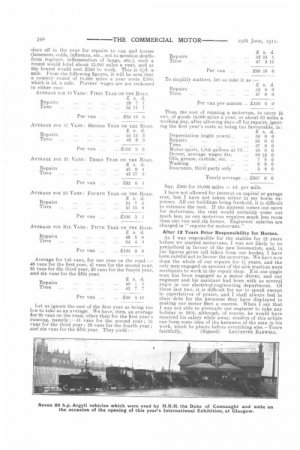 Page 3, 29th June 1911 —
A Million Miles a Year.
Close
Latest Particulars about Messrs. Shoolbred's Motorvans.
By One of the Partners.
We have 56 motorvans on the road at the present time, all supplied by the Lacre Motor Car Co., Ltd., the last eight having been built in the company's new factory at Letchworth Garden City. The first two were put on the road on the 2nd and 9th October, 1905, respectively ; they have done over 5i years work. We estimate that each of these two vans has done 100,000 miles on the road ; from their present condition, they should run at least another 50,000 miles, and we may estimate on a life of eight years per van in taking depreciation. When the time comes to scrap the old models, they will be replaced by latest-type Lacres from the Letchworth factory.
How Services Build Up Demand.
By the aid of mileage recorders, we find that each van runs about 18,000 miles a year, taking the average of 63 miles a day on the road. Some vans do much less, but many vans do much more, those on a few rounds running into 25,000 miles each a year. Our longest regular service is to Hindhead and Haslemere, three days a week ; this round averages 120 miles a day. It is interesting to see how such a service as this grows. We started by delivering a van-load to a certain house some miles south of Haslernere, whenever the order was large enough to enable us to do it by road. We then arranged a monthly service to this one house ; by degrees, residents in a few other houses got to know of this, and the service became fortnightly, then weekly, until, finding that the weekly service often meant. sending two vans on the one day, we made it three days a week as at present. L Jo the same way, our service to Hitchin, Letchworth, Baldock, etc., began monthly ; it, also, is now three days a week.
One Motorvan Equals Six Horses.
Before we started motorvans, we had 300 horses in our stables ; at the present time, we have 120 horses --mostly for heavy work. Each motorvan does the work of at least six horses qn an average, and many
rounds would take .quite eight horses, that is supposing it were possible to do them with horses, but this could not be done, as the vans cannot start till fresh supplies are in from Covent Garden Market and the Fish Market, and the day would not be long enough to deliver these (fresh fruit, vegetables, fish, etc.) in time to be of use, By the use of our 56 vans, we have doubled our road mileage per year, as we have added so Many new rounds that could not be undertaken with horses.
The Annual Saving.
On the supposition that all our present rounds could be done with horses and give satisfaction, which is not the case, we should require between 500 and 600 horses in our stables ; but, if we had 300 horses six years ago and now do the work of 550 horses, and in the meantime have doubled our road mileage a year, what about the extra expense ? Well, taking the average of the last six years, there is a total increase in stable. expenses of only 2400 a year. For that, we have increased our road mileage 100 per cent. In the six years, besides extending all our existing country rounds, we have added 20 new districts by the use of 12 additional motorvans: four vans do a district daily, and eight vans do one district three days a week, and another district the other three days. These 12 vans mean 12 drivers at 30s. a week, and 12 porters at 26s. a week, or increased wages of 21.740 a year, but with motorvans, they being so much cheaper to run, the total expenses only average 2400 a year more. Had we put on 12 additional horsed vans each worked by four horses (two working and two resting), the expenses must have increased by 25,000 a year, including the wages of the 12 porters.
Saving Per Mile Run: Some Detail Costs.: Our country rounds, when done with horses, averaged 45 miles a day, and each round took four horses to work (two working and two resting) ; allowing 18. 'days off in the year for repairs to van and horses ,(lameness, colds, influenza, etc., not to mention deaths from rupture, inflammation of lungs, etc.), such a round would total about 13,000 miles a year, and at the lowest would cost 2350 to work. This is 61d. a mile. From the following figures, it will be seen that .a country round of 1S,000 miles a year costs 2300, which is 4d. a mile. Porters' wages are not reckoned in either ease.
AVERAGE FOR 48 VANS: FIRST YEAR ON THE ROAD.
Let us ignore the cost of the first year as being too low to take as an average. We have, then, an average for 98 vans on the road, other than for the first year's running, namely :-41 vans for the second year ; 31 vans for the third year ; 20 vans for the fourth year ; .and six vans for the fifth year. They yield:— Thus, the cost of running a motorvan, to carry 25 cwt. of goods 18,000 miles a year or about 63 miles a working day, after allowing days off for repairs, ignoring the first year's costs as being too favourable, is : I have not allowed for interest; on capital or garage rent, but I have not taken either in my horse expenses. All our buildings being freehold, it is difficult to estimate the rent. If the Interest comes out more for motorvans, the rent would certainly come out much less, as one motorvan requires much less room than one van and six horses. Engineers' salaries are charged in " repairs for motorvans."
After 12 Years Prior Responsibility for Horses.
As I was responsible for the stables for 12 years before we started motorvans, I was not likely to be prejudiced in favour of the new locomotion, and, in the figures given (all taken from our books), I have been careful not to favour the motorvan. We have now done the whole of our repairs for 4!.2 years, and the only men engaged on account of the new traction were mechanics to work in the repair shop. Not one single man has been engaged as a motor driver, and our engineer and his assistant had been with us several yezrs in our electrical-engineering department. Of these last two, it is difficult for me to speak except in superlatives of praise, and I shall always feel in their debt for the keenness they have displayed in making our motor fleeta success. When I say that I was not able to persuade our engineer to take any holiday in 1910, although, of course, he would have received his salary while away, readers of this article can form some idea of the keenness of the man in his work, which he places before everything else.—Yours
faithfully, (Signed) LEYCESTER BARWELL.