WESTIvr NSTEli HAUL
29th July 1977
Page 7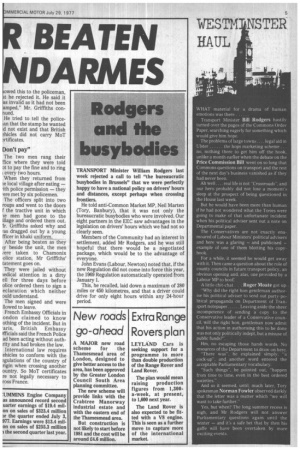 Page 7, 29th July 1977 —
WESTIvr NSTEli HAUL
Close
WHAT material for a drama of human emotions was there.
Transport Minister Bill Rodgers hastily turned over the pages of the Commons Order Paper, searching eagerly for something which would give him hope. •
The problems of large towns .... legal aid in
Ulster the hops marketing scheme ... no, nothing there to get him off the hook, unlike a month earlier when the debate on the Price Commission Bill went on so long that Commons questions on transport and the rest of the next day's business vanished as if they had never been.
Ah well real life is not "Crossroads-, and our hero probably did not lose a moment's sleep at the prospect of being questioned in the House last week.
But he would have been more than human if he had not wondered what the Tories were going to make of that unfortunate incident when his political adviser sent out a note on Departmental paper.
The Conservatives are not exactly enamoured of Labour Ministers' political advisers and here was a glaring — and publicised — example of one of them blotting his copybook.
For a while, it seemed he would get away with it. Then came a question about the role of county councils in future transport policy, an obvious opening and, alas, one provided by a Labour MP to boor:
A little chit-chat. . Roger Moate got up. "Why did the right hon gentleman authorise his political adviser to send out party-political propaganda on Department of Tran
sport notepaper Leaving aside the sheer incompetence of sending a copy to the Conservative leader of a Conservative council, will the right hon. gentleman now admit that his action in authorising this to be done was not only politically indept, but a misuse of public funds?".
Hm, no escaping those harsh words. No resources of the Department to draw on here.
"There was", he explained simply, "a cock-up", and another word entered the acceptable Parliamentary vocabulary.
"Such things", he pointed out, "happen from time to time, even in the best ordered societies."
And so it seemed, until, much later, Tory spokesman Norman Fowler observed darkly that the letter was a matter which "we will want to take further.
Yes, but when? The long summer recess is nigh, and Mr Rodgers will not answer Parliamentary questions again until the winter — and it's a safe bet that by then his gaffe will have been overtaken by more exciting events.