Tyre tread appeal dismissed
29th July 1977
Page 15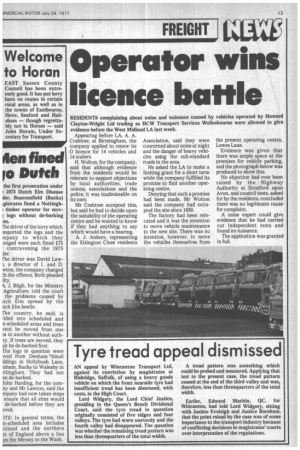 Page 15, 29th July 1977 —
Tyre tread appeal dismissed
Close
Keywords :
Tires
,
Somerset
,
English Judges
,
John Widgery, Baron Widgery
,
Tread
,
Widgery
,
Wincanton
,
Lord Chief Justice Of England And Wales
,
British People
,
Law / Crime
AN appeal by Wincanton Transport Ltd, against its conviction by magistrates at Risbridge, Suffolk, of using a heavy goods vehicle on which the front nearside tyre had insufficient tread has been dismissed, with costs, in the High Court.
Lord Widgery, the Lord Chief Justice, presiding in the Queen's Bench Divisional Court, said the tyre tread in question originally consisted of five ridges and four valleys. The tyre had worn unevenly and the fourth valley had disappeared. The question was whether the remaining tread pattern was less than threequarters of the total width. A tread pattern was something which could be probed and measured. Applying that test to the present case, the tread pattern ceased at the end of the third valley and was, therefore, less than threequarters of the total width.
Earlier, Edward Machin, QC, for Wincanton, had told Lord Widgery, sitting with Justice Eveleigh and Justice Boreham, that the point raised by the case was of some importance to the transport industry because of conflicting decisions in magistrates' courts over interpretation of the regulations.