Operator wins licence battle
29th July 1977
Page 15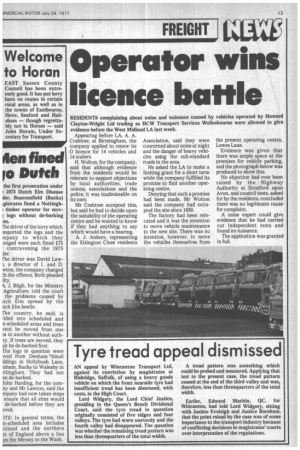 Page 15, 29th July 1977 —
Operator wins licence battle
Close
RESIDENTS complaining about noise and nuisance caused by vehicles operated by Howard Clayton-Wright Ltd trading as HCW Transport Services Wellesbourne were allowed to give evidence before the West Midland LA last week.
Appearing before LA, A. A. Crabtree, at Birmingham, the company applied to renew its 0 licence for 14 vehicles and 14 trailers.
H. Walton, for the company, said that although evidence from the residents would be relevant to support objections by • local authorities, trade unions, associations and the police, it was inadmissable on its own.
Mr Crabtree accepted this, but said he had to decide upon the suitability of the operating centre and he wanted to know if they had anything to say which would have a bearing.
A. J. Ankers, representing the Ettington Close residents Association, said they were concerned about noise at night and the danger of heavy vehicles using the sub-standard roads in the area.
He asked the LA to make a limiting grant for a short term while the company fulfilled its promise to find another operating centre.
Denying that such a promise had been made, Mr Walton said the company had occupied the site since 1939.
The factory had been relocated and it was the intention to move vehicle maintenance to the new site. There was no intention, however, to move the vehicles themselves from the present operating centre, Lowes Lane.
Evidence was given that there was ample space at the premises for vehicle parking, and the photograph below was produced to show this.
No objection had ever been raised by the Highway Authority at Stratford upon Avon, and council tests, asked for by the residents, concluded there was no legitimate cause for complaint.
A noise expert could give evidence that he had carried out independent tests and found no nuisance.
The application was granted in full.