Reach trucks 'indispensable'
29th July 1966
Page 96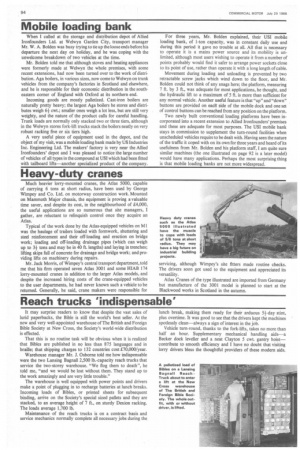 Page 96, 29th July 1966 —
Reach trucks 'indispensable'
Close
Keywords :
Business
,
Management
,
Technology
,
Supply Chain Management
,
Logistics
,
Bible Societies
,
Manufacturing
,
Forklift Truck
,
Pallet
,
British And Foreign Bible Society
,
Warehouse
,
Lansing Bagnall
It may surprise readers to know that despite the vast sales of lurid paperbacks, the Bible is still the world's best seller. At the new and very well-appointed warehouse of The British and Foreign Bible Society at New Cross, the Society's world-wide distribution is effected, That this is no routine task will be obvious when it is realized that Bibles are published in no less than 875 languages and in braille; that shipping charges to 132 countries cost £70,000/year.
Warehouse manager Mr. J. Osborne told me how indispensable were the two Lansing Bagnall 2,500 lb.-capacity reach trucks that service the two-storey warehouse. "We flog them to death", he told me, "and we would be lost without them. They stand up to the work amazingly and are very little trouble."
The warehouse is well equipped with power points and drivers make a point of plugging in to recharge batteries at lunch breaks. Incoming loads of Bibles, or printed sheets for subsequent binding, arrive on the Society's special sized pallets and they are stacked, to an average height of 7 ft., on sturdy Dexion racking. The loads average 1,700 lb.
Maintenance of the reach trucks is on a contract basis and service mechanics normally complete all necessary jobs during the lunch break, making them ready for their arduous 5+-day stint, plus overtime. It was good to see that the drivers kept the machines spotlessly clean—always a sign of interest in the job.
Vehicle turn-round, thanks to the fork-lifts, takes no more than half an hour. Supplementary mechanical handling aids—a Becker dock leveller and a neat Clayton 5 cwt. gantry hoist— contribute to smooth efficiency and I have no doubt that visiting lorry drivers bless the thoughtful providers of these modern aids.