)ock levellers
29th July 1966
Page 95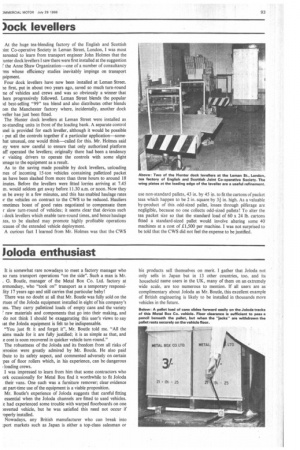 Page 95, 29th July 1966 —
)ock levellers
Close
At the huge tea-blending factory of the English and Scottish ant Co-operative Society in Leman Street, London, I was most terested to learn from transport engineer John Holmes that the unter dock levellers I saw there were first installed at the suggestion the Anne Shaw Organization—one of a number of consultancy .ms whose efficiency studies inevitably impinge on transport tuipment.
Four dock levellers have now been installed at Leman Street. le first, put in about two years ago, saved so much turn-round ne of vehicles and crews and was so obviously a winner that hers progressively followed. Leman Street blends the popular id best-selling "99" tea blend and also distributes other blends om the Manchester factory where, incidentally, another dock yeller has just been fitted.
The Hunter dock levellers at Leman Street were installed as De-standing units in front of the loading bank. A separate control inel is provided for each leveller, although it would be possible put all the controls together if a particular application—somehat unusual, one would think—called for this. Mr. Holmes said ey were now careful to ensure that only authorized platform aff operated the levellers; originally there had been a tendency rr visiting drivers to operate the controls with some slight tillage to the equipment as a result.
As to the saving made possible by dock levellers, unloading rnes of incoming 15-ton vehicles containing palletized packet as have been slashed from more than three hours to around 18 mutes. Before the levellers were fitted lorries arriving at 7.45 tn. would seldom get away before 11.30 a.m. or noon. Now they in be away in a few minutes, and this has enabled haulage rates athe vehicles on contract to the CWS to be reduced. Hauliers metimes boast of good rates negotiated to compensate them r slow turn-round of vehicles; it seems clear that devices such ; dock levellers which enable turn-round times, and hence haulage tes, to be slashed may promote highly profitable operations ;cause of the extended vehicle deployment.
A curious fact I learned from Mr. Holmes was that the CWS
use non-standard pallets, 43 in. by 45 in. to fit the cartons of packet teas which happen to be 2 in. square by 3iin. high. As a valuable by-product of this odd-sized pallet, losses through pilferage are negligible, because no one collects odd-sized pallets! To alter the tea packet size so that the standard load of 60 x 24 lb. cartons fitted a standard-sized pallet would involve altering some 40 machines at a cost of £1,500 per machine. I was not surprised to be told that the CWS did not feel the expense to be justified.