HIAB Cranes
29th July 1966
Page 94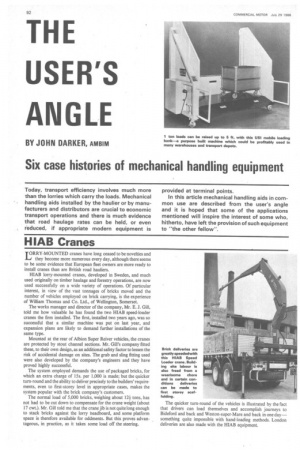 Page 94, 29th July 1966 —
HIAB Cranes
Close
ERRY-MOUNTED cranes have long ceased to be novelties and they become more numerous every day, although there seems to be some evidence that European fleet owners are more ready to install cranes than are British road hauliers.
HIAB lorry-mounted cranes, developed in Sweden, and much used originally on timber haulage and forestry operations, are now used successfully on a wide variety of operations. Of particular interest, in view of the vast tonnages of bricks moved and the number of vehicles employed on brick carrying, is the experience of William Thomas and Co. Ltd., of Wellington, Somerset.
The works manager and director of the company, Mr. E. J. Gill, told me how valuable he has found the two HIAB speed-loader cranes the firm installed. The first, installed two years ago, was so successful that a similar machine was put on last year, and expansion plans are likely to demand further installations of the same type.
Mounted at the rear of Albion Super Reiver vehicles, the cranes are protected by stout channel sections. Mr. Gill's company fitted these, to their own design, as an additional safety factor to lessen the risk of accidental damage on sites. The grab and sling fitting used were also developed by the company's engineers and they have proved highly successful.
The system employed demands the use of packaged bricks, for which an extra charge of 15s. per 1,000 is made; but the quicker turn-round and the ability to deliver precisely to the builders' requirements, even to first-storey level in appropriate cases, makes the system popular with the brick company's customers.
The normal load of 5,000 bricks, weighing about 12+ tons, has not had to be cut down to compensate for the crane weight (about 17 cwt.). Mr. Gill told me that the crane jib is not quite long enough to stack bricks against the lorry headboard, and some platform space is therefore available for oddments. But this proves advantageous, in practice, as it takes some load off the steering.
ditions deliveries can be made to first storey scaffolding.
The quicker turn-round of the vehicles is illustrated by the fact that drivers can load themselves and accomplish journeys to Bideford and back and Weston-super-Mare and back in one day— something quite impossible with hand-loading methods. London deliveries are also made with the HIAB equipment.