LIGH :LIVERY VANS
29th July 1966
Page 50
Page 51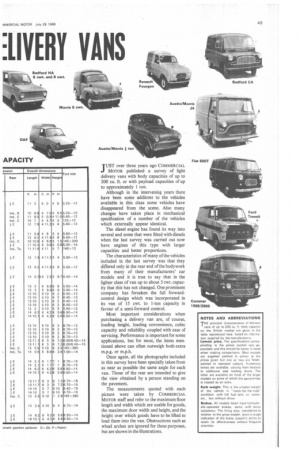 Page 50, 29th July 1966 —
LIGH :LIVERY VANS
Close
TUST over three years ago COMMERCIAL J MOTOR published a survey of light delivery vans with body capacities of up to 200 cu. ft. or with payload capacities of up to approximately I ton.
Although in the intervening years there have been some additons to the vehicles available in this class some vehicles have disappeared from the scene. Also many changes have taken place in mechanical specification of a number of the vehicles which externally appear identical.
The diesel engine has found its way into several and some that were fitted with diesels when the last survey was carried out now have engines of this type with larger capacities and better proportions.
The characteristics of many of the vehicles included in the last survey was that they differed only in the rear end of the bodywork from many of their manufacturers' car models and it is true to say that in the lighter class of van up to about 5 cwt. capacity that this has not changed. One prominent company has forsaken the full forwardcontrol design which was incorporated in its van of 15 cwt. to 1-ton capacity in favour of a semi-forward control.
Most important considerations when purchasing a delivery van are, of course, loading height, loading convenience, cubic capacity and reliability coupled with ease of servicing. Performance is important for some applications, but for most, the items mentioned above can often outweigh both extra m.p.g. or m.p.h.
Once again, all the photographs included in this survey have been specially taken from as near as possible the same angle for each van. Those of the rear are intended to give the view obtained by a person standing on the pavement.
The measurements quoted with each picture were taken by COMMERCIAL MOTOR staff and refer to the maximum floor length and width which are usable for goods, the maximum door width and height, and the height over which goods have to be lifted to load them into the van. Obstructions such as wheel arches are ignored for these purposes, but are shown in the illustrations.