This is Freightmaster. The ultimate.
29th July 1966
Page 46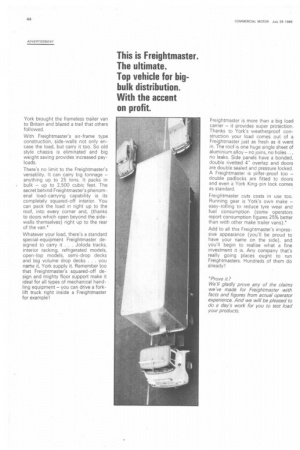 Page 47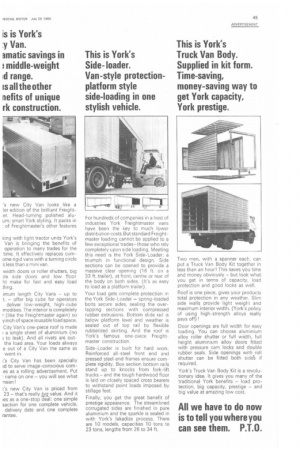 Page 46, 29th July 1966 —
This is Freightmaster. The ultimate.
Close
Top vehicle for bigbulk distribution. With the accent on profit.
York brought the frameless trailer van to Britain and blazed a trail that others followed.
With Freightmaster's air-frame type construction, side-walls not only encase the load, but carry it too. So old style chassis is eliminated and big weight saving provides increased payloads.
There's no limit to the Freightmaster's versatility. It can carry big tonnage — anything up to 25 tons. It packs in bulk — up to 2,500 cubic feet. The secret behind Freightmaster's phenomenal load-carrying capability is its completely squared-off interior. You can pack the load in right up to the roof, into every corner and, (thanks to doors which open beyond the sidewalls themselves) right up to the rear of the van.* Whatever your load, there's a standard special-equipment Freightmaster de signed to carry it . . Joloda tracks, interior racking, refrigerated models, open-top models, semi-drop decks and big volume drop decks . . you name it. York supply it. Remember too that Freightmaster's squared-off design and mighty floor support make it ideal for all types of mechanical handling equipment — you can drive a forklift truck right inside a Freightmaster for example! Freightmaster is more than a big load carrier — it provides super protection. Thanks to York's weatherproof construction your load comes out of a Freightmaster just as fresh as it went in. The roof is one huge single sheet of aluminium alloy — no joins, no holes ... no leaks. Side panels have a bonded, double rivetted 4" overlap and doors are double sealed and pressure locked. A Freightmaster is pilfer-proof too — double padlocks are fitted to doors and even a York King-pin lock comes as standard.
Freightmaster cuts costs in use too. Running gear is York's own make — easy-rolling to reduce tyre wear and fuel consumption (some operators report consumption figures 25% better than with other make trailer vans).* Add to all this Freightmaster's impressive appearance (you'll be proud to have your name on the side), and you'll begin to realise what a fine investment it is. Any company that's really going places ought to run Freightmasters. Hundreds of them do already!
*Prove it ?
We'll gladly prove any of the claims we've made for Freightmaster with facts and figures from actual operator experience. And we will be pleased to do a day's work for you to test load your products. "s new City Van looks like a ler edition of the brilliant Freighter. Head-turning polished aluurn; smart York styling. It packs in of Freightmaster's other features king with light tractor units York's Van is bringing the benefits of operation to many trades for the time. It effectively replaces cumome rigid vans with a turning circle s less than a mini van.
width doors or roller shutters, dig )1e side doors and low floor ht make for fast and easy load fling.
imum length City Vans — up to t. — offer big cube for operators deliver low-weight, high-cube modities. The interior is completely r (like the Freightmaster again) so yinch of space isusable load space.
City Van's one-piece roof is made a single sheet of aluminium (no ; to leak). And all rivets are outthe load area. Your loads always e out of a City Van the same as went in.
City Van has been specially to serve image-conscious comes as a rolling advertiseMent. Put name on one — you will see what mean !
Cs new City Van. is priced from 23 — that's really bigyalue. And it les as a one-stop deal: one simple section for one complete vehicle, delivery date and one complete rantee. For hundreds of companies in a host of industries York Freightmaster vans have been the key to much lower distribution costs.But standard Freightmaster loading cannot be applied to a few exceptional trades—those who rely completely upon side loading. Meeting this need is the York Side-Loader; a triumph in functional design. Side sections can be opened to provide a massive dear opening (16 ft. on a 33 ft. trailer), at front, centre or rear of the body on both sides. (It's as easy to load as a platform trailer).
Your load gets complete protection in the York Side-Loader — spring-loaded bolts secure sides, sealing the overlapping sections with compressed rubber extrusions. Bottom slide rail is below platform level and weather is sealed out of top rail by flexible rubberized skirting. And the roof is York's famous one-piece Freightmaster construction.
Side-Loader is built for hard work. Reinforced all-steel front end and pressed steel end frames ensure complete rigidity. Box section bottom rails stand up to knocks from fork-lift trucks — and the tough hardwood floor is laid on closely spaced cross bearers to withstand point loads imposed by stillage feet.
Finally, you get the great benefit of prestige appearance. The streamlined corrugated sides are finished in pure aluminium and the sparkle is sealed in with York's lakadize process. There are 10 models, capacities 10 tons to 23 tons, lengths from 26 to 34 ft, Two men, with a spanner each, can put a Truck Van Body Kit together in less than an hour! This saves you time and money obviously — but look what you get in terms of capacity, load protection and good looks as well.
Roof is one piece, gives your products total protection in any weather. Slim side walls provide light weight and maximum interior width. (York's policy of using high-strength alloys really pays off)!
Door openings are full width for easy loading. You can choose aluminium alloy roller shutter or full width, full height aluminium alloy doors fitted with pressure cam locks and double rubber seals. Side openings with roll shutter can be fitted both side's if required.
York's Truck Van Body Kit is a revolutionary idea. It gives you many of the traditional York benefits — load protection, big capacity, prestige — and big value at amazing low cost.