Holidaymakers got free trips
29th July 1966
Page 34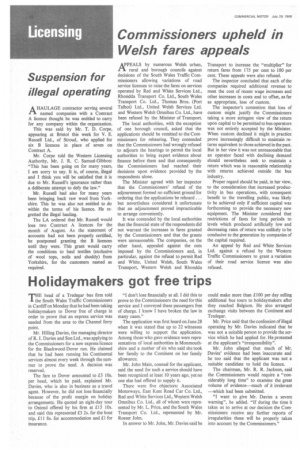 Page 34, 29th July 1966 —
Holidaymakers got free trips
Close
THE head of a Tredegar bus firm told the South Wales Traffic Commissioners in Cardiff on Monday that he had been taking holidaymakers to Dover free of charge in order to prove that an express service was needed from the area to the Channel ferry point.
Mr. Hilling Davies, the managing director of R. I. Davies and Son Ltd., was applying to the Commissioners for a new express licence for the Blackwood-Dover run. He claimed that he had been running his Continental services almost every week through the summer to prove the need. A decision was reserved.
The fare to Dover amounted to £3 10s. per head, which he paid, explained Mr. Davies, who is also in business as a travel agent. However, he did not lose financially because of the profit margin on holiday arrangements. He quoted an eight-day tour to Ostend offered by his firm at £15 10s. and said this represented £3 2s. for the boat trip, £11 8s. for accommodation and £1 for insurance. "I don't lose financially at all. I did this to prove to the Commissioners the need for this service and I conveyed these passengers free of charge. I know I have broken the law in many cases."
The application was first heard on June 28 when it was stated that up to 22 witnesses were willing to support the application. Among those who gave evidence were representatives of local authorities in Monmouthshire and a mother of six who said she took her family to the Continent on her family allowance.
Mr. John Main, counsel for the applicant, said the need for such a service should have been recognized at least 10 years ago, yet no one else had offered to supply it.
There were five objectors: Associated Motorways, East Kent Road Car Co. Ltd., Red and White Services Ltd., Western Welsh Omnibus Co. Ltd., all of whom were represented by Mr. L. Price, and the South Wales Transport Co. Ltd., represented by Mr. Rosser John.
In answer to Mr. John, Mr. Davies said he could make more than £100 per day selling additional bus tours to holidaymakers after they reached Belgium. He also arranged exchange visits between the Continent and Tredegar.
Mr. Price said that the confession of illegal operating by Mr. Davies indicated that he was not a suitable person to provide the service which he had applied for. He protested at the applicant's "irresponsibility".
Mr. John alleged that much of Mr. Davies' evidence had been inaccurate and he too said that the applicant was not a suitable candidate to hold the licence.
The chairman, Mr. R. R. Jackson, said the Commissioners would require a "considerably long time" to examine the great volume of evidence—much of it irrelevant —which had been submitted.
"I want to give Mr. Davies a severe warning", he added. "If during the time it takes us to arrive at our decision the Commissioners receive any further reports of irregularities these will be properly taken into account by the Commissioners."