Commissioners upheld in Welsh fares appeals
29th July 1966
Page 34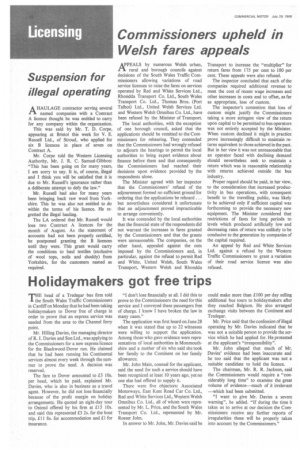 Page 34, 29th July 1966 —
Commissioners upheld in Welsh fares appeals
Close
APEALS by numerous Welsh urban, rural and borough councils against decisions of the South Wales Traffic Commissioners allowing variations of road service licences to raise the fares on services operated by Red and White Services Ltd., Rhondda Transport Co. Ltd., South Wales Transport Co. Ltd., Thomas Bros. (Port Talbot) Ltd., United Welsh Services Ltd. and Western Welsh Omnibus Co. Ltd., have been refused by the Minister of Transport.
The local authorities, with the exception of one borough council, asked that the applications should be remitted to the Commissioners for rehearing. They contended that the Commissioners had wrongly refused to adjourn the hearings to permit the local authorities to bring expert evidence about finance before them and that consequently the Commissioners had reached their decisions upon evidence provided by the respondents alone.
The Minister agreed with her inspector that the Commissioners' refusal of the adjournment formed no sufficient ground for ordering that the applications be reheard . but nevertheless considered it unfortunate that an adjournment proved impracticable to arrange conveniently.
It was contended by the local authorities that the financial state of the respondents did not warrant the increases in fares granted by the Commissioners and that the grants were unreasonable. The companies, on the other hand, appealed against the cuts imposed by the Commissioners and, in particular, against the refusal to permit Red and White, United Welsh, South Wales Transport, Western Welsh and Rhondda Transport to increase the "multiplier" for return fares from 175 per cent to 180 per cent. These appeals were also refused.
The inspector concluded that each of the companies required additional revenue to meet the cost of recent wage increases and other increases in costs and to offset, as far as appropriate, loss of custom.
The inspector's contention that loss of custom might justify the Commissioners taking a more stringent view of the return upon capital to be permitted to bus operators was not entirely accepted by the Minister. When custom declined it might in practice prove increasingly difficult to maintain returns equivalent to those achieved in the past. But in her view it was not unreasonable that an operator faced with declining demand should nevertheless seek to maintain a return which was in reasonable relationship with returns achieved outside the bus industry.
Proper regard should be paid, in her view, to the consideration that increased productivity in bus operations, with consequent benefit to the travelling public, was likely to be achieved only if sufficient capital was forthcoming to provide the necessary new equipment. The Minister considered that restrictions of fares for long periods to levels which produced artificially low and decreasing rates of return was unlikely to be conducive to the generation by companies of the capital required.
An appeal by Red and White Services Ltd. against a refusal by the Western Traffic Commissioners to grant a variation of their road service licence was also refused.