Higher Speeds for Buses
29th July 1966
Page 32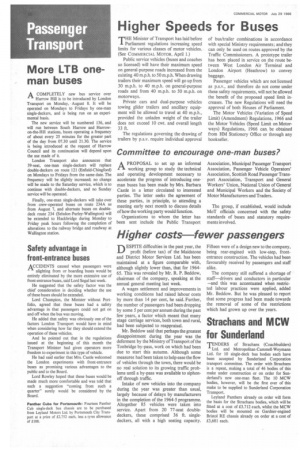 Page 32, 29th July 1966 —
Higher Speeds for Buses
Close
THE Minister of Transport has laid before Parliament regulations increasing speed limits for various classes of motor vehicles. (See COMMERCIAL MOTOR, April 1.) Public service vehicles (buses and coaches so licensed) will have their maximum speed on general-purpose roads increased from the existing 40 m.p.h. to 50 m.p.h. When drawing trailers their maximum speed will go up from 30 m.p.h. to 40 m.p.h. on general-purpose roads and from 40 m.p.h. to 50 m.p.h. on motorways.
Private cars and dual-purpose vehicles towing glider trailers and ancillary equipment will be allowed to travel at 40 m.p.h., provided the unladen weight of the trailer does not exceed 10 cwt. and overall length 33 ft.
The regulations governing the drawing of trailers by p.s.v. require individual approval
of bus/trailer combinations in accordance with special Ministry requirements; and they can only be used on routes approved by the Traffic Commissioners. A prototype trailer has been placed in service on the route between West London Air Terminal and London Airport (Heathrow) to convey baggage.
Passenger vehicles which are not licensed as p.s.v., and therefore do not come under these safety requirements, will not be allowed the benefit of the proposed speed limit increases. The new Regulations will need the approval of both Houses of Parliament.
The Motor Vehicles (Variation of Speed Limit) (Amendment) Regulations, 1966 and the Motor Vehicles (Speed Limit on Motorways) Regulations, 1966 can, be obtained from HM Stationery Office or through any bookseller.