Call to renationalize road transport
29th July 1966
Page 31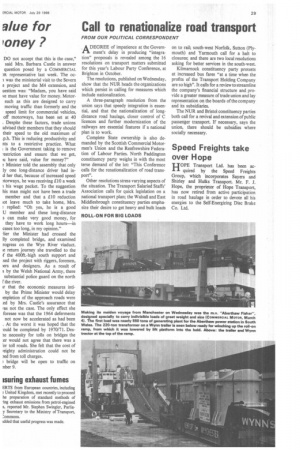 Page 31, 29th July 1966 —
Call to renationalize road transport
Close
FROM OUR POLITICAL CORRESPONDENT
ADEGREE of impatience at the Government's delay in producing "integration" proposals is revealed among the 16 resolutions on transport matters submitted for this year's Labour Party Conference, at Brighton in October.
The resolutions, published on Wednesday, show that the NUR heads the organizations which persist in calling for measures which include nationalization.
A three-paragraph resolution from the union says that speedy integration is essential, and that the nationalization of longdistance road haulage. closer control of C licences and further modernization of the railways are essential features if a national plan is to work.
Complete State ownership is also demanded by the Scottish Commercial Motormen's Union and the Renfrewshire Federation of Labour Parties. North Paddington constituency party weighs in with the most terse demand of the lot: "This Conference calls for the renationalization of road transport".
Other resolutions stress varying aspects of the situation. The Transport Salaried Staffs' Association calls for quick legislation on a national transport plan; the Walsall and East Middlesbrough constituency parties emphasize their desire to get heavy and bulk loads on to rail; south-west Norfolk, Sutton (Plymouth) and Yarmouth call for a halt to closures; and there are two local resolutions asking for better services in the south-west.
Kilmarnock constituency party protests at increased bus fares "at a time when the profits of the Transport Holding Company are so high". It calls for a review to streamline the company's financial structure and provide a greater measure of trade union and lay representation on the boards of the company and its subsidiaries.
The NUR and Bristol constituency parties both call for a revival and extension of public passenger transport. If necessary, says the union, there should be subsidies where socially necessary.