Another maintenance inspector for TRTA
29th July 1966
Page 30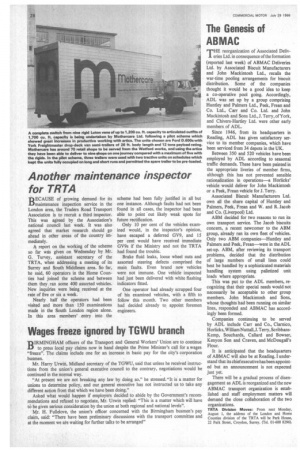 Page 30, 29th July 1966 —
Another maintenance inspector for TRTA
Close
BECAUSE of growing demand for its maintenance inspection service in the London area, the Traders Road Transport Association is to recruit a third inspector. This was agreed by the Association's national council last week. It was also agreed that market research should go ahead in other areas of the country immediately.
A report on the working of the scheme so far was given on Wednesday by Mr. G. Turvey, assistant secretary of the TRTA, when addressing a meeting of its Surrey and South Middlesex area. So far, he said, 60 operators in the Home Counties had joined the scheme and between them they ran some 400 assorted vehicles. New inquiries were being received at the rate of five or six a week.
Nearly half the operators had been visited and more than 150 examinations made in the South London region alone. In this area members' entry into the scheme had been fully justified in all but one instance. Although faults had not been found in all cases, the inspector had been able to point out likely weak spots for future rectification.
Only 10 per cent of the vehicles examined would, in the inspector's opinion, have escaped a deferred GV9, and 15 per cent would have received immediate GV9s if the Ministry and not the TRTA had found the trouble.
Brake fluid leaks, loose wheel nuts and assorted steering defects comprised the main faults. Even brand new vehicles were not immune. One vehicle inspected had just been delivered with white flashing indicators fitted.
One operator had already scrapped four of his examined vehicles, with a fifth to follow this month. Two other members had decided already to appoint foremen engineers.