B.M.C. Break New 'Ground with 7-tonner
29th July 1955
Page 48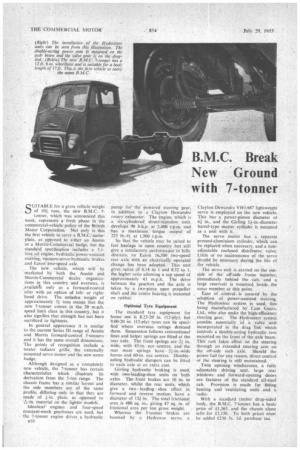 Page 48, 29th July 1955 —
B.M.C. Break New 'Ground with 7-tonner
Close
Keywords :
St/TABLE for a gross vehicle weight of 101 tons, the new B.M.C. 7boner, which was announced this week, represents a. fresh phase in the commercial-vehicle policy of the British Motor Corporation. Not only is this the first vehicle to carry a B.M.C. nameplate, as opposed to either an Austin or a Morris-Commercial badge, but the standard specification includes a 5.1litre oil engine, hydraulic power-assisted steering, vaenum,servo-hydraulic brakes and Eaton two-speed axle.
The new vehicle, which will be marketed by both the Austin and Morris-Commercial dealer organizations in this country and overseas, is fivailabt only as a forward-control oiler with an option of leftor righthand drive. The unladen weight of approximately 31 tons means that the new 7-tonner comes in the 20 m.p.h. speed limit class in this country, but it also signifies that strength has not been sacrificed to lightness.
In general appearance it is similar to the current Series HI range of Austin and Morris forward-control 5-tonners and it has the same overall dimensions. The points of recognition include a neater radiator grille, the externally mounted servo motor and the new name badge.
Although designed as a completely new vehicle, the 7-tonner has certain characteristics which illustrate its derivation from the 5-ton range. The chassis frame has a similar layout and the side members are of the same profile, differing only in that they are made of pin. plate, as opposed to -in. material on the lighter models.
Identical' engines and four-speed constant-mesh gearboxes are used, hut the 7-tonner engine drives a hydraulic atO
pump for the powered steering gear, in addition to a Clayton Dewandre rotary exhauster. The engine, which is a siii-cylindered. direct-injection . unit, develops 90 b:h.p: at 2,400 r.p.rn. and has a maximum torque output of 225 lb.-ft. at 1,500 r.p.m.
So that the vehicle may be suited to fast haulage in open country hut still give a Satisfactory performance in hilly districts, an Eaton 16,500 two-speed rear axle With an electrically operated change has been adopted. This unit gives ratios of 6.14 to I and 8.52 to 1, the higher ratio allowing a top speed of approximately 43 m.p.h. The drive between the gearbox and the axle is taken by a two-piece open propeller shaft and the centre bearing is mounted on rubber.
Optionnl Tyre Equipment
The standard tyre equipment for home use is 8.25-20 in. (12-ply), but• 9.00-20 in. (12-ply) tyres can be specified where overseas ratings demand them. Suspension follows conventional lines and helper springs are fitted at the rear axle. The front springs are 21 in. wide, with 45-in, eye centres, and the rear main springs have 21-in.-wide leaves and 60-in, eye centres. Doubleacting hydraulic dampers can be fitted to each axle at an extra cost.
Girling hydraulic braking is used, with two-leading-shoe units on both axles. The front brakes are 16 in. in diameter, whilst the rear units, which give a two leading shoe effect in forward and reverse motion, have a diameter of 15i. in. The total frictional area is 480 sq. in.. giving 47 sq. in. of frictional area per ton gross weight.
Whereas the 5-tonner brakes are boosted by a Hydrovac servo, a Clayton Dewandre VH3/687 lightweight servo is employed on the new vehicle. This has• a power-piston diameter of 61. in.. and the Girling lf-in.-diameter barrel-type master cylinder is mounted as a unit with it.
The servo motor has a, separate pressed-aluminium cylinder, which can be replaced when necessary, and a nonadjustable enclosed distributor valve. Little or no maintenance of the servo she;uld be necessary during the life of the vehicle.
The servo unit is carried on the outside of the off-side frame member, immediately behind the cab, and a large reservoir is mounted inside the same member at this point.
Ease of control. is assured by the adoption of power-assisted steering. The Hydrosteer system is used, this being manufactured by Cam Gears. Ltd., who also make the high-efficiency steering gear. The Hydrostecr system consists essentially of a valve unit incorporated in the drag link which controls a double-acting hydraulic ram mounted on the front of the axle beam. This ram takes effect on the steering through an extended steering arm on the off-side stub axle. Should the power fail for any reason, direct control of the steering is still maintained.
Twin opening windscreens, a fully adjustable driving seat, large rear windows and forward-opening doors are features of the standard all-steel cab. Provision is made for fitting heating and ventilating units and a radio.
With a standard timber drop-sided body, the 13.M.C. 7-tonner has a basic price of £1,365, and the chassis alone sells for £1.150. To both prices Must be added £230 5s. Id. purchase tax.