Trailer Frame Becomes Boiler Base
29th July 1955
Page 47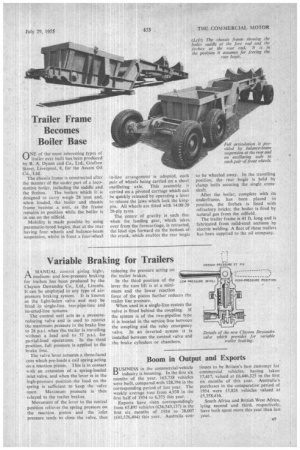 Page 47, 29th July 1955 —
Trailer Frame Becomes Boiler Base
Close
ONE of the most interesting types of trailer ever built has been produced by R. A. Dyson and Co., Ltd., Grafton Street, Liverpool, 8, for the Assam Oil Co., Ltd.
The chassis frame is constructed after the manner of the under part of a locomotive boiler, including the saddle and the firebox. The boilers which it is designed to carry weigh 28 tons and, when loaded, the boiler and chassis frame become a unit, as the frame remains in position while the boiler is in use on the oilfield.
Mobility is made possible by using pneumatic-tyred bogies, that at the rear having four wheels and balance-beam suspension, whilst in front a four-wheel
in-line arrangement is adopted, each pair of wheels being carried on a short oscillating axle. This assembly is carried on a pivoted carriage which can be quickly released by operating a lever to release the jaws which lock the kingpin. All wheels are fitted with 14.00-20 20-ply tyres.
The centre of gravity is such thai when the landing gear, which takes over from the forecarriage, is retracted. the load tips forward on the bottom of the crank, which enables the rear bogiz to be wheeled away. In the travelling position, the rear bogie is held by clamp bolts securing the single crossshaft.
After the boiler, complete with its underframe, has been placed in position, the firebox is lined with refractory bricks; the boiler is fired by natural gas from the oilfield.
The trailer frame is 41 ft. long and is fabricated from mild-steel sections by electric welding. A fleet of these trailers has been supplied to the oil company.